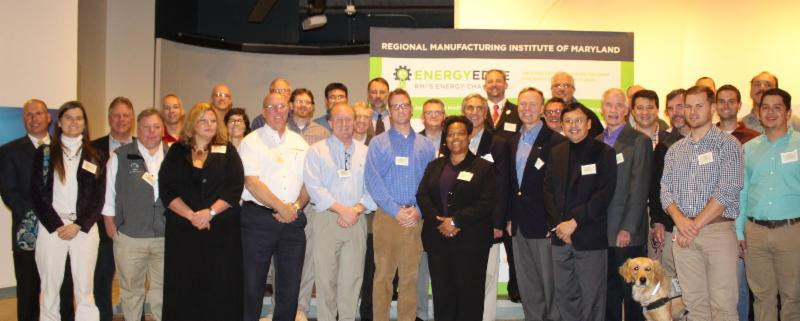 As the trusted partner for Maryland manufacturers for over 25 years, RMI has worked with over 200 Maryland Manufacturing firms providing energy services to help reduce their energy expenses.
In 2011, RMI was been sought out by Baltimore County's Office of Sustainability to carry out our original pilot effort to reduce energy for manufacturers. As a result of the effort, within nine months, RMI was able to reduced energy bills by 15% from the firms where RMI provided services.
From 2013-2016, RMI partnered with the Maryland Energy Administration on a grant received from the Customer Investment Fund to reduce energy for firms in the BGE service territory. Through our facility audits, we've identified over 48 million kilowatt hours of opportunities to reduce energy expenses. RMI's efforts resulted in completed energy upgrades which reduced electricity consumption by 10 million kWh and $1.2 million in energy cost savings, with an additional 7 million kWh and $840,000 in cost savings of energy upgrades in progress at the time the grant period finished.
Announcement on New Energy Program Funding for 2017-2020: On Maryland Manufacturing Day, Governor Hogan announced a new $2 million dollar grant to RMI to encourage energy efficiency and economic growth for manufacturers being served by Delmarva and PEPCO. The grant provides funding to the Regional Manufacturing Institute ("RMI") to help manufacturers identify energy efficiency upgrades to reduce their energy expenditures and help them access resources to incentivize their investments. RMI will take its unique approach to help targeted manufacturers benefit from utility rebate programs, MEA programs, and other leveraged funding sources, find expertise for their energy efficiency projects, and implement plans of action to achieve their energy goals.  RMI will target 50 Maryland-based manufacturers within the Delmarva and PEPCO service areas for its energy program. The anticipated energy saved from this program is 10 million kilowatt hours or $1.2 million in cost savings for companies based in the State.
To find out how you can benefit, call Peter Gourlay at 443-275-2489 or email him at  peter.gourlay@rmiofmaryland.com.