RMI knows that image is everything in today's economy.  When the general public thinks about manufacturing, we know that the image they have is not always positive.  Many impressions from the media have been about the smokestack industry or labor intensive work that harkens to years gone by.  These stereotypes are off-track and do a disservice to those working in today's Maryland manufacturing and are an inaccurate reading of its importance to our State.
The Disconnect
The real manufacturing occurring in Maryland has little to do with the so often heard negative stereotypes of our industry.  In fact, manufacturing is at the heart of innovation for our economy.  Manufacturing encompasses many of today's trendy areas of interest, particularly computer software technology and robotics. While manufacturing doesn't employee as many workers today, it is cleaner than ever, it requires more advanced skills and is more productive than ever.
Policymakers need to also recognize that manufacturing is increasingly intertwined with the services sector.  According to a recent McKinsey & Company report, every dollar of manufacturing output requires 19 cents of services.  And in some manufacturing industries, more than half of all employees work in service roles, such as R&D engineers and office-support staff.
Why is Image Important?
If manufacturing is not valued by the public, then it's easy for policy makers to enact legislation that can harm the industry.  RMI has seen this occur many times over the years.  Additionally, if manufacturing is not valued by the public, then many parents will steer their children towards more "hot sectors" of the economy making it increasingly difficult to find the workers required for today's ever-increasing high tech manufacturing.
RMI's Image Campaign Goal
RMI's image campaign helps put a face on manufacturing.  We want policy makers to better understand what is being made in their jurisdictions, how many are being employed and how those products are helping us in our daily lives.  We want policy makers to see the good work that manufacturers are doing in their communities.  We want kids to see manufacturing as fun and a great career challenge.
Equally important, we want policymakers to understand the dynamic changes that are occurring in manufacturing so that future legislation and workforce decisions are not made based on previous needs. A new industrial revolution is taking place (manufacturing 4.0) as manufacturers have to build their R&D capabilities, as well as expertise in data analytics and product design. They will need qualified, computer-savvy factory workers and agile managers for complex global supply chains.
To ensure workers have the skills required there must be improvements in math and analytical skills.  As part of RMI's Image Campaign, RMI facilitates collaboration with industry and educational institutions to ensure that skills learned in school fit the needs of employers.
Champions of Maryland Manufacturing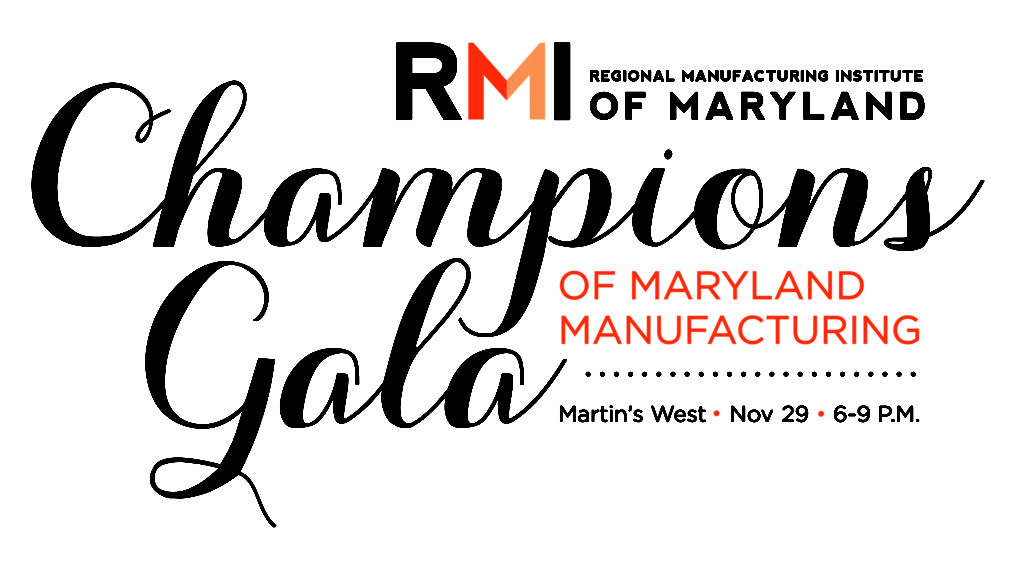 Our largest image campaign event is the Champions of Maryland Manufacturing. Recognizing the Champions of Maryland Manufacturing is a key element of RMI's Image Campaign to help put a face on today's manufacturing. By helping to tell the stories of those that are championing the manufacturing effort in Maryland, we help policymakers better understand the products made in their jurisdictions and how those goods help us in our daily lives. We also help educators, parents, and kids see manufacturing as a viable, enriching career opportunity. The Champion's dinner is one of Maryland's most meaningful evenings, highlighting extraordinary successes and celebrating our community spirit. Learn
2018 Champions of Maryland Manufacturing Yearbook
Champions of Maryland Manufacturing Gala attendees will receive copies of the 2018 Champions of Maryland Manufacturing Yearbook.  Legislators, the media, educators, and others vital to the industry's support will also receive copies of the Yearbook following the event. See how to get your ad in our 2018 Yearbook.