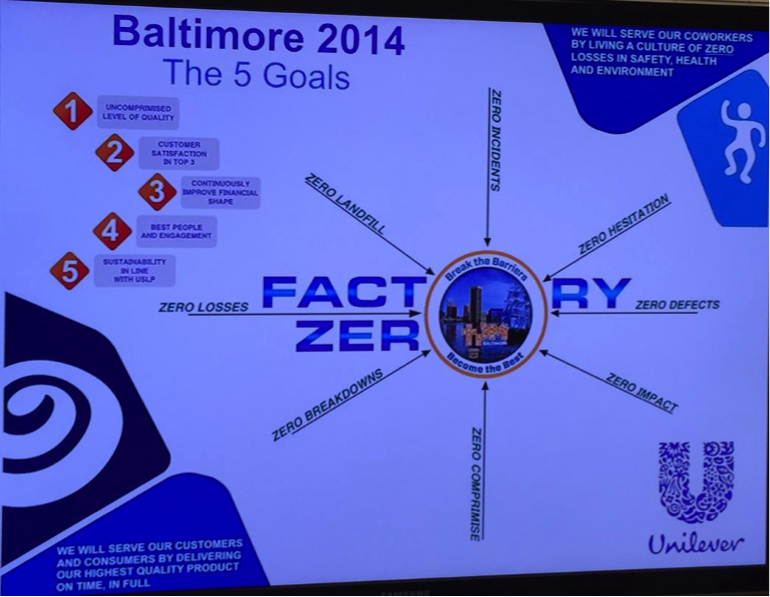 One needs only to take a tour of the Unilever Baltimore plant to gain insights as to why Unilever is such a standout in global stewardship of the environment. With more than 170,000 employees and operations spanning the globe, its corporate goal is to halve its environmental footprint.
They aim to do this through a variety of initiatives, including sustainable sourcing and minimizing their consumer packaging. Additionally, the company's 2020 goals are to halve its water and waste consumption in producing products. While these are ambitious goals, they have cut about 11% of their waste since 2010 already. Their manufacturing goals are to generate 32% less CO2 per product; 29% less water and 66% less waste per ton of product.
They are taking a cradle-to-grave approach to ensure that whatever they produce has little impact on the environment even once it's consumed.
"The key is how we package and how we ship our products, and then how the consumer interacts with it and how it's recycled," said Jonathan Jett-Parmer, Factory Director of Unilever's Baltimore operation, which produces vegetable-oil based spreads for the grocery and restaurant marketplace.
How do these sustainability strategies help Unilever grow?
"When we publicly commit to being a good corporate citizen by not impacting communities and developing sustainable products, we help ourselves," said Jett-Parmer. "We live in a highly volatile world in a razor-thin margin environment. We believe if we strive to have zero impact on our communities, zero losses on the factory floor (in terms of accidents); zero production breakdowns, zero product defects and don't compromise on those commitments, we'll ensure a happier, healthier and productive workforce."By making sustainable living commonplace for consumers, the firm is helping to drive profitable growth and build brands with a significant purpose. By reducing waste and material use, they create efficiencies and cut costs. This helps to improve margins. By looking at product development, sourcing and manufacturing through a sustainability lens, opportunities for innovation open up.
The facility tackles waste head-on and has made energy efficiency a top priority.
"We take a snapshot of all production generated, how much energy it's takes to produce it and measures it across several thresholds," said Jett-Parmer.
For the full article, visit RMIenergysolutions.com.