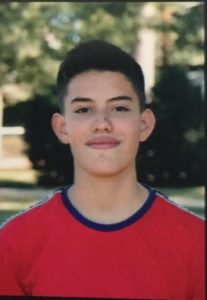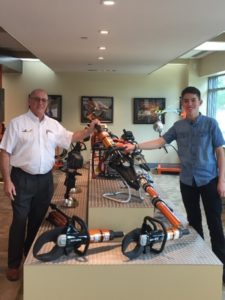 Santiago Martin, a 10th-grade student at the Rochambeau French International School, recently completed a two-week internship with RMI. During that time he researched companies and interviewed RMI Board members representing Acadia Windows & Doors ( Neill Christopher), Arnold Packaging ( Mick Arnold), Hamilton Associates (Doug Hamilton), Holmatro USA (John Freeburger), Lion Brothers (Suzy Ganz), Product Support, Inc. (Scott Wiley) and Stanley Black & Decker ( Urvashi Shah – Emerging Leader in Manufacturing executive). Since Santiago does not drive, all but one interview was by phone. He visited Holmatro and met with RMI Board member John Freeburger. Below are his insightful and fascinating reports on each interview. Santiago was referred to RMI by a representative of Local Motors who attended the May 3rd Techtonic Shift event.
Santiago Martin is a highly motivated, self-directed young learner who did an amazing job reporting on his experiences during his internship. He represents the kind of student RMI promotes under the Tectonic Shift- Today's Learners, Tomorrow's Workforce initiative.
Santiago is a Driven A grade student fluent in Spanish, English, and French. He has experience at a TechShop after school program with different machines. He knows different programming is a fast learner with a proven ability to work in groups with different personalities. When not studying, Santiago is an experienced drummer and soccer player.
He certainly earned an A++ for his remarkable work with RMI.
Mike Galiazzo, Ph.D. – RMI President
Santiago Martin Interviews