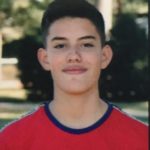 Santiago Martin, a 10th-grade student at the Rochambeau French International School, recently completed a two-week internship with RMI. During that time he researched companies and interviewed RMI Board members representing various employers in the state. Since Santiago does not drive, all but one interview was by phone. Below is his interview with Urvashi Shah, Program Manager for Smart Factories at Stanley Black & Decker. Santiago was referred to RMI by a representative of Local Motors who attended the May 3rd Techtonic Shift event
Today, I spoke over the phone with Urvashi Shah, program manager for Smart Factories at Stanley Black & Decker, for an interview. We started off with her telling me about the company's history. For starters, it is a 175 year old company. Stanley Works bought Black&Decker in 2010, thus, the two formed StanleyBlack&Decker. Stanley Works designed and manufactured hand tools, while Black&Decker made power tools instead. In 1963, Black&Decker developed a cordless minimum-torque tool, for astronauts to use on Project Gemini. Additionally, in 1971, they designed a cordless rotary hammer drill for the Apollo moon program. Today, StanleyBlack&Decker is made up of 21+ different brands. It has three divisions of business, of which approximately 65% is global tools and storage. GTS has total 46-50 plants, about a third of which are in America. Urvashi said, "We want to make where we sell". Manufacturing where you sell lowers costs of shipping, increases speed to market, and reduces supply chain complexity. The CEO of the company was recently invited to The New York Stock Exchange to ring the opening bell in celebration of 175 years of business. StanleyBlack&Decker is now first in tools and storage, second in security services, and the global leader in engineering fastening.
Next, I asked Urvashi about the key technologies used by StanleyBlack&Decker. The company is implementing Industry 4.0 manufacturing systems. It promotes the idea that manufacturers need to take advantage of the new technology that's available to make their machines smart, digital, and automated, and essentially not fall behind other manufacturing companies. She first mentioned SPC and QMS, which stand for Statistical Process Control and Quality Management System. SPC checks the quality of a part that's being produced. If it detects any flaws with the part, it sends a signal to whoever is supervising the machine and flashes red. Another important use for it is that the system can capture user errors. For example, it can detect if the user forgot to put in information, or if they mixed up an input. Without this technology, you could be producing defective parts without even knowing. She then told me about MES and OEE, which stand for Manufacturing Execution System and Overall Equipment Effectiveness. These are both systems that analyze the status of the process and can give feedback on how it's performing. For example, the OEE system monitors a machine's downtime, meaning it detects if it isn't running when it's supposed to or vice-versa. These technologies are part of the company transforming its plants into digital, visual, paperless "smart factories".
We then spoke about how she stays up to date on the latest technology that's coming out and how it's being used. The first thing she mentioned was that she often reads articles online about technology. She explained that StanleyBlack&Decker invests a lot in learning. For example, they have an innovation team, an advanced manufacturing team, and a Center of Excellence. She also said, like everyone else I've spoken to, that attending events and being a part of big networks of people like RMI helps to get exposure to new technologies and innovative machinery. For example, at RMI events she gets to speak with members and learn from leaders and their experience. StanleyBlack&Decker is also partnered with DMDII or Digital Manufacturing and Design Innovation Institute, in Chicago. They are a research institute that develops new technology in-house. The final thing she said was that they speak to SI vendors, which stands for system integrator vendors to learn about new technologies and best practices in the field.
The final thing we talked about was what issues and concerns the company has or has run into. We first discussed if cost was an issue, and Urvashi said that it is definitely a factor. To be cost effective, the company often performs plant assessments. A way around the cost problem is to instead of just buying tech without thinking about it, they do POCs or Proof of Concepts, which is a demonstration that checks the usefulness and effectiveness of something for the future. Next, they check the ROI or Return On Investment, which is the ratio between the net profit and the cost of a certain investment. One thing Urvashi said which I retained is that "cost is a factor, but you need to know what problem you are solving for." Another challenge that the company faces is that technology is changing fast. For example, if they have to install new technology in all of their plants, something new will probably come out before they've finished deploying in all 50 locations. Another thing she said is that Industry 4.0 is relatively new and a disruptive concept. Industry 4.0 is disruptive to the traditional way of manufacturing. For example, some StanleyBlack&Decker plants have employees that have been working at the plant for over 20-30 years, and when they are presented with a new software with a complicated computer, they have no idea how to use it; so they have to invest in training their workforce for effective change management. An important thing that Urvashi said is that, "Technology is only as impactful as the people who use it." After this, she clarified a couple of things for me about the info she'd given over the course of the interview. We finished with her asking me a bit about my internship and how it's gone, to which I answered that everything's been amazing and that I've learned so much useful information that I will definitely retain for the rest of my life.
-Santiago Martin