Two Baltimore area RMI Champions of Maryland Manufacturing reported stellar achievements this month.
Recognizing the Champions of Maryland Manufacturing is a key element of RMI's image campaign to help put a face on today's manufacturing. By helping to tell the stories of those that are championing the manufacturing effort in Maryland, we help policymakers better understand the products made in their jurisdictions and how those goods help us in our daily lives. We also help educators, parents, and kids see manufacturing as a viable, enriching career opportunity.
Read More about RMI Champions of Maryland Manufacturing
Citywide Youth Development, recognized by RMI for STEM achievement with Baltimore youth, hosted a ground breaking ceremony for its E.M.A.G.E. Center in West Baltimore, and Food Opportunity's Baked In Baltimore delivered its biggest order to date, when 19,000 of its famous DC Sweet Potato Cakes hit the shelves in 114 Safeway stores in the DMV region this past Saturday. Company President April N. Richardson was recognized by RMI for Emerging Leadership in areas including women-owned business development and re-entry employment.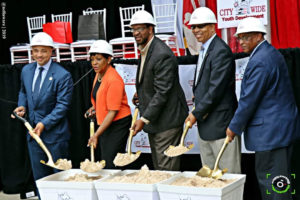 Citywide Youth Development, Inc. with a focus on social entrepreneurs, established in 2010 by its President, Rasheed Aziz, has created more than 100 free-enterprise jobs as well as three youth organizations with plans for expansion. The E.M.A.G.E Center will house a manufacturing/skill training and enterprise development initiative with opportunities for entrepreneurship and manufacturing, including a manufacturing facility for the organizations' Frozen Desert Sorbet and Made in Bmore Clothing. With the goal of employing citizens in manufacturing jobs, Citywide has put their efforts in the most impoverished areas of Baltimore City, working to utilize entrepreneurship and manufacturing as crime prevention, poverty eradication, and community development tactics. E.M.A.G.E., which stands for Entrepreneurs Making And Growing Enterprises, is the product of collaboration between the Abell Foundation, the Mid-Atlantic Region MBDA Advanced Manufacturing Center-Baltimore, the France-Merrick Foundation, the Maryland Department of Housing and Community Development, Under Armour, and the Baltimore Development Corporation, and is an example of what can be achieved when communities, government, and private enterprise work together.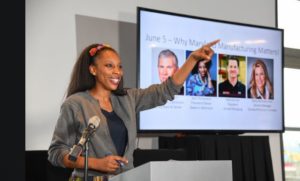 Baked In Baltimore's large scale delivery to Safeway represents the kind of rewards that come when a community supports "buy-local" and Safeway's Regional President gives this company an opportunity to excel. Founded in Prince George's County, DC Sweet Potato Cake's relationship with Safeway was initiated by the Prince George's County Economic Development Corporation to ensure the brands' growth in the region. If you are familiar with DC Sweet Potato Cake, a few years back, it scored big with Starbucks, which carried the company's products in regional stores. Richardson had her start with the company as its attorney working with them on a turnaround plan, and later joined as Owner and President with Co-owner Derek Lowery to build a team that today is working smart to stay on top, including the opening of Baked in Baltimore last September. The company prides itself in being part of Maryland's manufacturing growth as is evidenced by its close partnerships with RMI and Baltimore's MBDA Advanced Manufacturing Center.