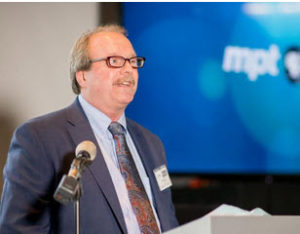 Over 250 Manufacturing stakeholders representing over 130 companies and organizations came to the Baltimore Museum of Industry on June 5 to be part of RMI's latest effort to help promote the image of Maryland Manufacturing. Maryland Public Television (MPT), in partnership with RMI, launched a campaign to produce a 13-part TV series to tell the story of today's Maryland manufacturing.
Mike English, Director of Content for MPT (pictured on left), identified the problem of valuing our manufacturing industry to be addressed through the program. "Most lay people who we talk to will think manufacturing is gone, but we know it is alive and well and growing in Maryland, it just looks a lot different," he said.
MPT released its new promotional video for the campaign to produce the TV series.
Why Maryland Manufacturing Matters Campaign Launched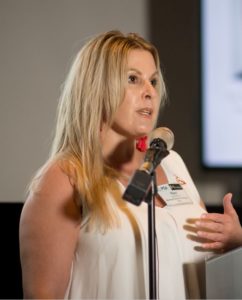 RMI also officially launched its Why Maryland Manufacturing Matters campaign, a continuous effort to promote the voices of the Maryland manufacturing ecosystem to educate stakeholder on the importance of our industry to local economies and communities. One of the opening manufacturing speakers, Mary Steinebrunner, General Manager of Dunlop Protective Footwear (photo on left) discussed why Maryland manufacturing matters.
"Our 1939 company almost went out of business, but we've turned it around. We've grown our employee base by 20% in the last year by inventing new technologies and by demonstrating to our employees that we can grow and it can be a great place to work. We're building a community in Havre de Grace, Maryland and supplying protective clothing and protective footwear for the entire United States. The more we can make people aware of why manufacturing matters and supporting the cause, the better we'll all be off," she said.