Senator Barbara Mikulski met with the owners of Marlin Steel in Baltimore City on Monday. The company started in the 1960s, and makes steel baskets for all sorts of companies in the United States and around the world.
Monday's stop was part of Senator Mikulski's jobs tour. She is meeting with officials of companies to see how the government can help them create jobs.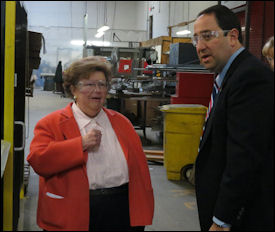 Senator Mikulski says big steel companies and other large manufacturers are now being replaced by smaller manufacturers who continue to hire lots of people and specialize in a certain product.
"Hiring a couple hundred people who combine the talents of people with master's degrees or bachelor's degrees in science and engineering working with blue collar people on the line that themselves are highly skilled. We have to revise our vocational skills, our community colleges and our engineering programs," Mikulski tells WBAL Radio.
U.S. Senator Barbara A. Mikulski (D-Md.) today toured and hosted a roundtable discussion on specialized manufacturing at Marlin Steel in Baltimore. She was joined in the discussion by Charles Wetherington of BTE Technologies, Peter Bowe of Ellicott Dredge Enterprises, William Hutton of Titan Steel, Jean-Luc Abaziou of Techno Science, Suzy Ganz of Lion Brothers and Drew Greenblatt of Marlin Steel. The visit was another stop in Senator Mikulski's jobs tour of Maryland.
"Today's discussion was about jobs, jobs, jobs," Senator Mikulski said. "I always say, 'The best ideas come from the people.' Washington doesn't have all the answers when it comes to manufacturing. That's why I came to hear what Maryland's specialized manufacturers need. We need more manufacturing jobs like the kind we saw today at Marlin Steel."
The roundtable focused on what Congress could do to encourage manufacturing from Research and Development tax credits to connecting businesses with community colleges for workforce training.
As Chair of the Senate Appropriations Subcommittee on Commerce, Justice and Science, Senator Mikulski has provided strong funding for the Trade Adjustment Assistance for Firms (TAAF) under the Economic Development Administration. TAAF supports companies by providing grants for financial support to make changes and technical expertise to advise companies on the changes.
In 2010, Marlin Wire won a TAAF grant which enabled them to change their business model, refine their product line and make strategic efficiencies to cut overhead costs. They have since graduated from the TAAF program.
Source: http://wbal.com/article/86634/3/template-story/Mikulski-Makes-Stop-In-Baltimore-On-Jobs-Tour