Last night, nearly 300 of Maryland's business leaders and lawmakers gathered for Corridor Inc.'s Sixth Annual Person of the Year Awards, held at the brand new Hotel at Arundel Preserve. What began in December with 21 accomplished and worthy nominees was narrowed down by reader votes to one person: Aris Melissaratos, Senior Advisor to the President for Enterprise Development at Johns Hopkins University.
When Melissaratos first arrived in Maryland, he was 13 years old and spoke not a word of English. His parents had brought him to the United States as they escaped communism and economic hardship. Now, Melissaratos is known throughout Maryland and the region for his entrepreneurship, work ethic, community involvement, and leadership.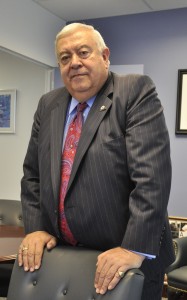 In 2007, Melissaratos joined Johns Hopkins University as Senior Advisor to the President for Enterprise Development, bringing his career full-circle since receiving his Bachelor of Science degree in electrical engineering from Hopkins in 1966. After graduation, Melissaratos began his 32-year career at Westinghouse Electronics Corporation, where he held numerous positions in Baltimore and at the company's corporate headquarters in Pittsburgh.
By 1980, Melissaratos had earned a master's degree in engineering management from George Washington University and completed a management development program at Harvard Business School. When he left Westinghouse in 1998, he had served as both the company's Vice President of Science and Technology and its Chief Technology Officer.
Beginning in 2003, Melissaratos served a four-year term as Secretary of Maryland's Department of Business and Economic Development (DBED). As DBED Secretary, his mission was to stimulate the state's economy, promoting it as a prime destination for tourists, artists, and film producers. Melissaratos is also credited with developing technology and manufacturing in Maryland, as well as minority businesses.
In his current position at Hopkins, Melissaratos is responsible for building the university's relationship with businesses and forging new connections with the research and corporate communities. He also oversees the Johns Hopkins Technology Transfer, which links Hopkins researchers with businesses interested in commercializing their inventions.
Read More: 2011 Person of the Year: Aris Melissaratos [Corridor INC]