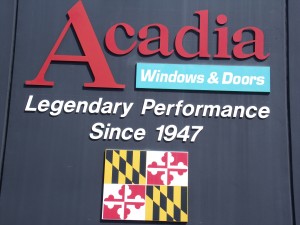 Acadia Windows & Doors is recognized as a the most technologically advanced player in the renovation and new construction U.S. window and door industry in the Mid-Atlantic region and East Coast of the United States.
Beginning with aluminum storm products in 1947, Acadia has evolved with changing technologies through aluminum windows and patio doors into commercially rated PVC, producing some of the heaviest and most durable vinyl door and window products in the industry today.
The Acadia facility, located in a newly renovated, state-of-the-art 65,000 square foot factory in Baltimore, Maryland, has been laid out to optimize flow through and material handling.
To achieve optimum material flow, Acadia uses design innovation to store its assembly material in "monster racks", using unique "narrow aisle forklifts" to increase the throughput. "This design maximizes efficiency by leaving material on the rack, so that employees are not spending time moving product around, but only move it once when needed for the production process," said Neill Christopher, Vice President of Manufacturing.
When the finished product comes off the production line, it's bar-coded and goes immediately into the trailer on the loading dock.
Green Windows and Doors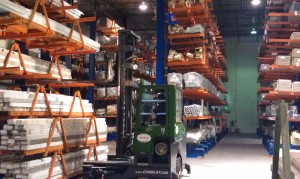 "The windows and doors sector has always been a green industry," said Christopher. Recycled glass is their heaviest recycled item and also gets the highest dollar volume in return. Acadia sells it back to their vendors who use it as an alternative product for "glassphalt," a combination of glass and asphalt mixture that is used on roads. Beyond the glass, recycled vinyl rack material goes into trays that go under chicken houses on Maryland's eastern shore. Even the vendor pallets used for transporting recycled material are reused. "Whatever we don't use from the glass vendor, including all packaging, it gets returned," he said. "They reuse it and we don't create additional, waste. It's a win-win."
Acadia also recycles cardboard and aluminum. Before Acadia developed its recycling regime, they used to have two waste pick-ups a week, now it's just once a month. It shows how little waste is being generated that is not recycled. As a result, very little waste is going into landfills.
Eliminating Waste
"We've taken a very innovative approach to minimizing material waste through our supply chain and also our customer supply chain through the deployment of the "Milkman and IKEA" business models," said Christopher. Acadia differentiates itself from the competition by controlling all aspects of the production and installation process. After receiving vinyl material from a Dayton, Ohio extruder, Acadia manufactures and tests Acadia finished products at their Baltimore facility.
The Acadia business model is akin to the "old milkman model," as they ship their window products to the site and stay on site with their own trailers until the job is complete. Each trailer not only provides the windows, but is equipped with all necessary materials and parts to do the installation job as well ensuring complete quality control.
"One of the good things about us installing the equipment ourselves is that we do it with our own crews and we know they will handle the product carefully and install it correctly," said Christopher. This cuts down on the extra packaging. In addition, nothing needs to be disposed of after the job is complete. This results in no waste and no scrap that goes out to the job site. Acadia even asks vendors to use returnable racks for their vinyl and glass products so that they can be reused. "There is a lot of talk about green, but we do it for completely selfish reasons, if we don't have to dispose it, we keep our costs down," he said. Everybody wins.
Based on customer demand, Christopher provides almost two tours a week at the plant. "Customers keep asking what we do with our scrap," said Christopher. "After receiving these inquiries repeatedly, I realized that prospective customers are keen to make sure we are good corporate citizens before they sign on with us," he said. "And that's good news for us." Acadia is very proud of how their manufacturing process is geared towards eliminating waste.
While Acadia has been at the forefront of green manufacturing in terms of its recycling and elimination of wastes from the product stream, they are always looking for ways to become more of a wholly sustainable enterprise. "Beyond our waste elimination and recycling efforts, we've made the commitment to see where we could conserve energy at our plant," said Christopher. Acadia recently signed on to be part of a self-directed green team program with a cohort of five other manufacturers led by Maryland's Regional Manufacturing Institute. The program is operating under at U.S. Department of Energy grant through Baltimore County, Maryland to help manufacturers with their energy conservation needs.
RMI's team is helping Acadia better understand the total energy footprint being consumed by the company and suggesting specific actions to cut back on energy demand. The main systems that are being assessed include the replacement of current high bay lighting with energy efficient fluorescent lighting and deploy motion sensors, where appropriate and a high-efficiency factory heating system. "Having outside energy experts help us think through our energy conservation options has been extremely helpful," said Christopher. "The RMI initiative helps us compare notes with other manufacturers from diverse industries provides us with some great best-in-class models for comparison," he said.
The Acadia Windows & Doors operation is soundly run by its President and CEO Wink Mather. Mather is steeped in creating culture of trust and empowerment. He espouses learning from great manufacturing books which emphasize positive corporate culture like "Leading Change" and "Zapp!', The Lightning of Empowerment" and seeks to infuse all of his employees with a positive can do approach.
Acadia does more than talk empowerment. They have proved themselves to be a manufacturer with a heart. They hire disadvantaged employees that like the repetitive work required on their assembly lines. One remarkable hire was from the Maryland School of the Blind. Acadia has found such employees to be extremely reliable and productive. "We are proud that we've been able to provide jobs for people that never had an opportunity to work," said Mather. "We found that they are some of our most productive people. It's good for them and its good for us too." Mather says he wants the job to be the best they ever had.
Such compassion has created a contagious positive atmosphere exemplified by the employees. Employees all wear "Never Settle pins" to remind themselves to have positive attitude. The corporate moto is "decide, believe, achieve."
By Peter R. Gourlay, RMI Green Team Coordinator and Columnist for Manufacturing Today Magazine. He can be reached at peter.gourlay@mdaep.com.