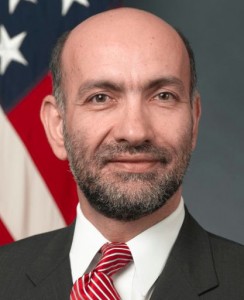 Hunt Valley, Maryland, May 24 – Dr. Leo Christodoulou, the head of the U.S. Department of Energy's (DOE) Advanced Manufacturing Office, will be the opening keynote speaker at RMI's NEXT-Gen Energy Manufacturing Forum on June 6 in Timonium, Md.
The forum will provide Dr. Christodoulou an opportunity to review the results emanating from RMI's Self Directed Green Team (SDGT) approach for energy conservation through employee engagement in manufacturing. Dr. Christodoulou will hear from six Baltimore County manufacturing companies who participated in the U.S. DOE-funded SDGT initiative featuring executives from GM Baltimore Operations, MarquipWardUnited, Acadia Windows & Doors, Green Bay Packaging, Lion Brothers and Kirk-Habicht Company.
The Regional Manufacturing Institute of Maryland (RMI) will showcase "a different approach" for public-private sector efforts on saving energy. Last September, the companies were invited by RMI to design a program that would help them save energy at their manufacturing facilities. In nine short months, significant energy savings were achieved at each company and perhaps more importantly, behavior is changing among the employees to become more energy conscious.
The SDGT approach encouraged the executives to outline a program that would meet their needs to reduce energy consumption. "We worked with the companies to develop a climate of trust as we targeted the areas of opportunity which would have the greatest energy savings," said Dr. Michael Galiazzo, President of RMI. RMI got each plant manager to prioritize their energy upgrades and pledge to make recommended fixes based on a strong payback case. A key part of the initiative was getting the plant managers to meet monthly at each of the six plants to share the lessons learned along the way.
All of the companies had previously demonstrated a commitment to sustainability and RMI's efforts built on that and accelerated new strategies targeted at energy conservation. Each company joined the SDGT for different reasons, but all recognized they had room for improving their energy conservations efforts and saw this initiative as a great vehicle.
"Energy is a big ticket item as many manufacturers have large plant facilities and warehouses require energy for lighting, air compression systems, heating, HVAC, ovens and machinery equipment for their daily operations," said Galiazzo
As the trusted organization representing the interests of Maryland manufacturers, RMI received a grant from Baltimore County to develop the SDGT initiative as a pilot model to encourage manufacturers to reduce energy consumption via a $250,000 grant as part of a larger Baltimore County block grant from the American Recovery Act funding from the U.S. DOE.
"The timing of joining the SDGT was perfect for Green Bay Packaging. It fit right in with some of the profit-driven objectives that we had established." said Tyson Aschliman, General Manager of the Hunt Valley facility. "But to be honest, if someone had come to me and said, 'I'm here with the government and would like to bring some consultants to evaluate your energy needs and discuss some specific government-driven objectives,' I would have politely said 'no thank you'. RMI is a trusted partner of industry and when they came to us with this initiative we said yes," he said.
The secret to the success of this program has been RMI's approach to get buy-in first by creating that trusting atmosphere," said Galiazzo. "Our efforts have been unique in that we have been able to make the case for energy upgrades to all of the key officials within the plants and we created a culture of energy conservation as well," said Galiazzo. We are filling an important void in service delivery and I believe this is a model that should be replicated," he said. "
"The results speak for themselves," said Aschliman. In the near-term, Green Bay Packaging will save $24,200 annually with a minimal investment of $4,050 where they've made modifications to the facility's air compression systems, steam system and boiler and scrap systems. Aschliman sees an additional $60,000-$70,000 in saving over the long term.
"We discovered that our energy consumption can be a very important target for improvement," said GM Baltimore's Plant Manager Bill Tiger. GM Baltimore Operations has done an effective job of reducing energy at its plant and since they were also building a brand new LEED certified facility for the electric motor production right next to their existing facility, they joined the RMI Green Team to see what other savings could be realized.
"We are extremely lean," said Tiger. "We are so busy with our mission and don't have the time to find out what government resources are out there that can help us save money or increase our productivity." When we were asked to join the SDGT, designed to help manufacturers reduce energy consumption, we immediately said yes," he said.
The RMI initiative helped GM discover energy savings opportunities with their design of their multiple oven curing processes for the new facility and is helping reduce energy consumption during non-working hours. "Having the SDGT group is like having a "concierge service," said Tiger. "They bring resources to our attention and work with our team to make the payback case to help us make decisions that can help our bottom line. That fills a huge gap between government and industry," he said.
"We have more manufacturers in Baltimore County than any other county in the State," said Baltimore County Executive Kevin Kamenetz. "Energy efficiency and productivity go hand in hand. More prosperous and greener companies benefit us all," said Kamenetz.
As the grant comes to a close this June, each of these companies has accomplished some tremendous improvements within their facilities saving thousands of dollars in energy consumption. Perhaps even more importantly, huge strides have been made in terms of behavior change. RMI will host an event to showcase the results and provide insights on how other manufacturing companies can benefit on June 6 at the Crowne Plaza Hotel in Timonium, MD. Registration information can be found at www.rmiofmaryland.com.