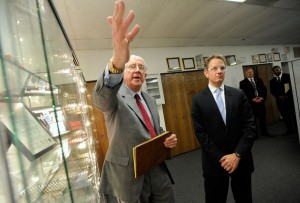 On Thursday, after leading a discussion with members of the Greater Baltimore Committee on the state of the economy, U.S. Treasury Secretary Timothy Geithner visited Marlin Steel Wire Products in Baltimore. Secretary Geithner, the longest-serving member of Obama's economic team, visited as part of a larger, ongoing effort to promote the Obama administration's economic agenda of fostering job growth by rewarding small businesses like Marlin Steel. Specifically, he is encouraging lawmakers to pass a new hire tax credit for small businesses, part of President Obama's "To-Do List" for Congress.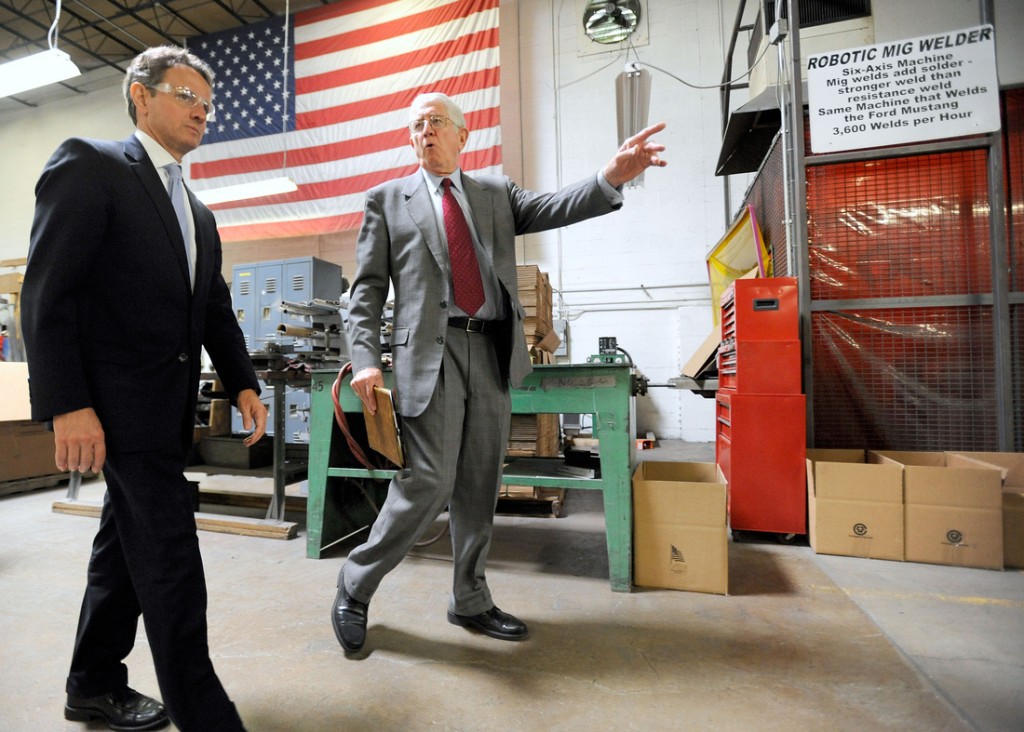 Marlin Steel is just the kind of business the Obama administration looks to support. The all-American, Baltimore-based company purchases raw steel from mills in Indiana and Illinois and converts it into finished products designed by engineers graduated from the University of Maryland. With 30 employees, Marlin Steel ships nationally, as well as to 36 countries worldwide, all without outsourcing.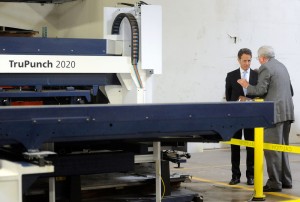 Guided by Marlin Steel Vice President Marshal Greenblatt, Secretary Geithner toured the entire Marlin facility, from the offices and cubicles of the Engineering Department to the factory floor and machine shop. He took special interest in how Marlin has evolved in order to stay on top of the market, by extending beyond the "small pond" of wire baskets and hooks to the "blue ocean" of sheet metal fabrication. He was pleased to hear that Marlin has invested heavily in new high-tech robots – some of which were made in nearby Connecticut – to remain competitive with Chinese companies.
During his visit, Secretary Geithner spoke with PBS's Jeffrey Brown about how Marlin Steel epitomizes the growth potential for American businesses. "They're growing. They're hiring. They're investing," Secretary Geithner said. "They're bringing a lot of innovation and technology to improve productivity."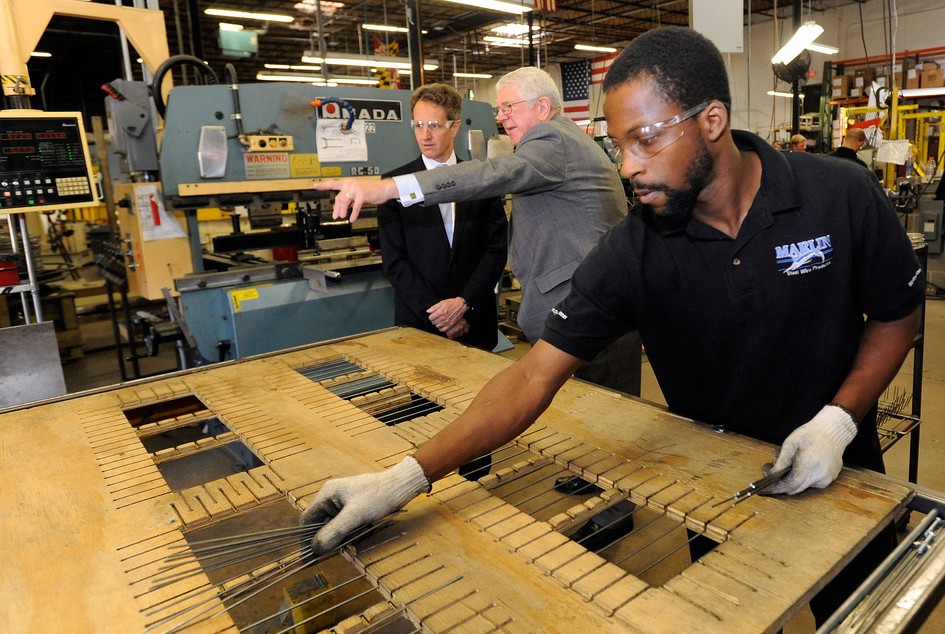 He added that while one 30-person company won't remedy the nation's job market on its own, Marlin Steel is just one of hundreds of thousands of small businesses in the U.S. that help to maintain the country's competitive edge in an increasingly competitive world market. "These guys are making things. They're making things you can feel. And they illustrate one of the strengths of the recovery so far, which is [that] manufacturing is doing pretty well," Secretary Geithner said.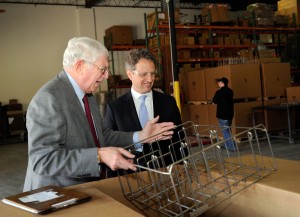 While studying the metrics Marlin uses to monitor and improve performance – scrap generation, days without an accident, and skills improvement, to name just a few – Secretary Geithner commended the company on having spent 5 percent of labor costs on training for existing employees. "It's a good example that, if you invest in people and training, and you invest in innovation, you can be very competitive, even in a world that's much more competitive than it used to be," he said.
It is those investments, along with Marlin Steel's daily work method of Quality Engineering Quickly, that keep companies around the world dependent on Marlin Steel for high-quality precision steel parts.