RMI Represented on Sparrows Point Partnership Business Advisory Board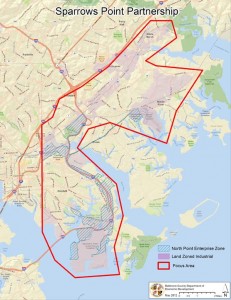 Towson, MD – Baltimore County Executive Kevin Kamenetz today announced a major economic development initiative to promote business growth opportunities related to the expansion of the Port of Baltimore. The Sparrows Point Partnership brings together 16 prominent business and private sector leaders who will advise the County on the highest and best uses for industrially zoned properties on the Sparrows Point peninsula, the area closest to the Seagirt Marine Terminal. The Partnership will also look at the impact of the Port's expansion on manufacturing zoned properties in the North Point, Essex, Rossville and Middle River areas. From this study, the County will implement an action plan to promote port-related job activity around the Sparrows Point peninsula.
Partnership members bring significant expertise in manufacturing, port operations, business and economic development policy, real estate development, transportation and logistics. The Partnership will be chaired by Dan Gundersen, Executive Director of the Baltimore County Department of Economic Development.
"The Sparrows Point Partnership will give us input from business and development leaders and provide a better understanding of how Baltimore County can best capitalize on the tremendous growth and expansion at the Port of Baltimore," said County Executive Kevin Kamenetz. "Baltimore County has the deepwater access, interstate and commercial rail network, industrial sites, and the North Point Enterprise Zone to attract even more port-related businesses and jobs."
The Sparrows Point Partnership will advise the County Department of Economic Development on issues including future Port-related needs, land use implications, condition of infrastructure, environmental conditions, transportation logistics, and business development opportunities.
A major expansion of the Seagirt Marine Terminal will make the Port of Baltimore one of only two East Coast ports that can accommodate the new generation of super ships that will sail through the Panama Canal beginning in 2014.
In announcing the study, County Executive Kamenetz reiterated that steel-making should and will retain a prominent presence on the Sparrows Point peninsula. The study will focus on utilizing unused portions of the former Bethlehem Steel real estate.
"Baltimore County is building from a competitive position, with a strong industrial base that includes a network of manufacturers, suppliers, logistics and distribution companies and their trained workers," said Councilman John Olszewski, Sr., who represents the Dundalk-Sparrows Point area along with Senator Norman Stone and Delegates Sonny Minnick, John Olszewski, Jr., and Michael Weir.
Sparrows Point Partnership
Members
David Bavar  Bavar Properties
M. Kathleen Broadwater  Deputy Executive Director, Maryland Port Administration
John Bulman  Sparrows Point Shipyard Industrial Complex
J. David Conrad  Corporate Director–Business Development, RG Steel
Michael Derby  General Manager, North Atlantic Operations, Wallenius Wilhelmsen
Donald Fry  President, GreaterBaltimore Committee, Maryland Port Commissioner
Mike Galiazzo  President, Regional Manufacturing Institute
Harry Halpert  President, MTC Logistics
Michelle Lipkowitz  Partner, Saul Ewing LLP
Joanna McGowan  President, W.M. Transport (White Marsh Transport)
John MacSherry  Former Senior Vice President, Duke Realty Corporation
Aris Melissaratos  Senior Advisor to the President–Enterprise Development, The Johns Hopkins University
Mark Montgomery President, Ports America Chesapeake
Tom Obrecht Chairman, Blue & Obrecht Realty
James Van Derzee  Manager, Regional Development, CSX
Ted Venetoulis  Maryland Port Commissioner
Chair
Dan Gundersen  Executive Director, Baltimore County Department of Economic Development
Member, Board of Directors, International Economic Development Council