I sent an email to my elected officials this morning (below) inviting them to visit manufacturing facilities in their district. Please consider sending an email.
It's very easy if you go to the Maryland Chamber of Commerce website. Simply add your address, text . Based on your address the system automatically selects your federal and state representatives and you select who you want to receive your email.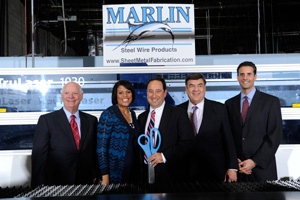 Go to http://www.mdchamber.org/ (right side, Contact Your Legislator)
"Manufacturing is a topic of conversation today. Thank goodness. Maryland manufacturers have been left relatively unsupported over the past decade. Now policymakers realize that "Making it in Maryland" means good paying manufacturing jobs that lead to middle class.
Please do your part to stand up and speak out for jobs in manufacturing based on business growth. Businesses create jobs (not training). Small to medium sized companies and the people who work for them need your attention and support to help companies compete globally.
The Regional Manufacturing Institute of Maryland (https://www.rmiofmaryland.com) held a town hall meeting with manufacturers and friends of manufacturers. A key issue was the need to have elected officials visit companies to learn about next generation Maryland manufacturing. Recently, Senator Cardin, Congressman Ruppersberger Congressman Sarbanes and Mayor Rawlings-Blake visited Marlin Steel Wire, as Drew Greenblatt (Marlin Wire President & RM Board Chair) showcased Marlin's new rapid tech laser cutting machine.
Please take time to visit a company in your district, make friends with the workers, and then, tell us the story of your visit".
Mike Galiazzo, President RMI