There is no question that manufacturing is a rapidly transforming, technologically driven industry. New materials, new processes and new skill requirements are defining the next generation of manufacturing, called advanced manufacturing .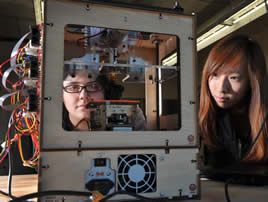 Technology is central to manufacturing, a fact all manufacturers know. It is critically important for leaders in our industry to know the right technologies to deploy in order to be globally competitive. Rapid technologies are processes, equipment, and news ways of working that define the future of next generation manufacturing. Rapid technologies include 3D modeling or computer aided design, digital imaging and measurement for reverse engineering, additive and subtractive manufacturing, and laser cutting.
These are new and emerging technologies with a foothold inside manufacturing today. More people need to understand how this technology can advance their business.
You can learn that and more at NEXTGen-M Rapid Tech for Make + Manufacture on April 27, 2012. (See details and registration.) This full day event is designed to: 1) show you rapid technologies (exhibits) 2) introduce you to companies using this technology 3) allow you to talk with experts in the field, and 4) invite you to be part of the constellation of rapid tech leaders and learners in the Greater Baltimore Region.
---
NEXTGen-M is hosted by RMI, Towson University Object Lab and School of Emerging Technologies, Direct Dimensions and CCBC TIME Center.
See how they are bringing rapid tech to you:
---
-Read more about 3D printing and rapid tech on the national scene-