RMI Presents:
The Future of Maryland Manufacturing in 2020
Keynote Speaker: Anirban Basu
Chairman and CEO, Sage Policy Group
(This event sold out last year.)
January 17, 2020 | 9:30 a.m. to 11:30 a.m. | PSA Insurance, Hunt Valley, MD
As we kick-off the business year of 2020, join RMI on January 17 for an important, lively and entertaining discussion on the Future of Maryland Manufacturing in 2020. Discover what's next! Gain insights into the new and emerging trends that manufacturers need to know about.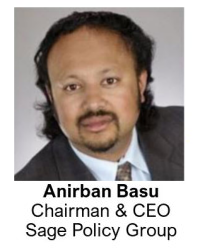 Our distinguished guest speaker will share statistics, insights and perspectives on the manufacturing sector including:
What does the global forecast look like for manufacturing and what role/impact does manufacturing play/have on Maryland's economy?
What do manufacturers need to do to attract the talent necessary to compete in 2020 and beyond?
What does 2020 look like for Maryland's manufacturing industry?
Following Mr. Basu's presentation, we'll hear thoughts for 2020 and beyond from several of Maryland's leading manufacturing company executives:
Location/Time: RMI Premier Partner PSA Insurance will once again host this annual program at their beautiful Hunt Valley facility approximately 1 mile off of I83 with convenient, no-charge parking. Coffee and danishes will be available during the program, and a boxed lunch will be provided at the end of the program to eat at the event or to take to go compliments of PSA Insurance & Financial Services. 
This will be a great opportunity to prepare your company for the coming year with fantastic insights on topics that can directly impact your business.
Seating is limited. Register today.
Special thanks to our host and food and beverage sponsor:
This program brought to you through RMI with these partners and sponsors: