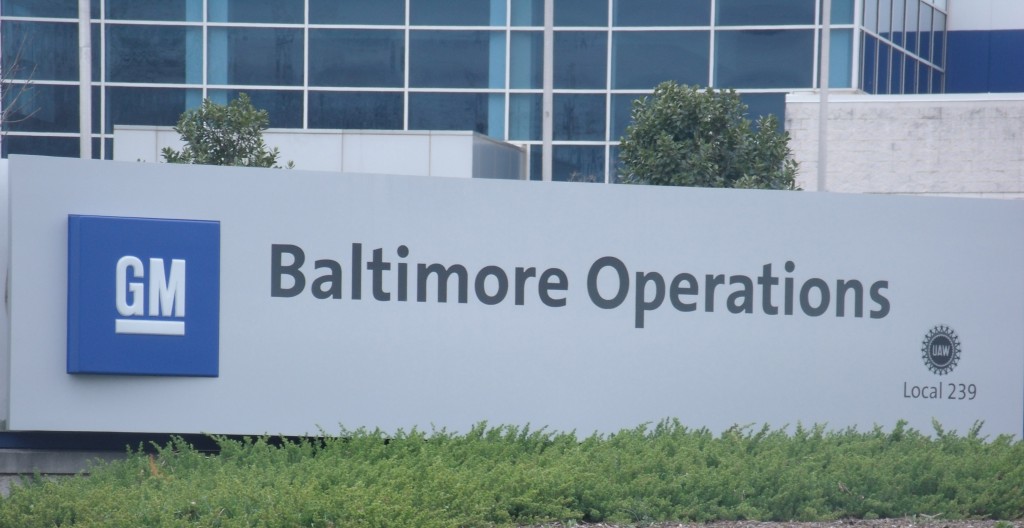 Name the first company that comes to mind in Baltimore, Maryland that produces no landfill waste, saves turtles, earned its wildlife habitat certificate and generates nine percent of its electric power from the Sun.
Hint: it's a Baltimore area manufacturer. That's right, it's GM Baltimore Operations. You're visually struck by the uniqueness of this facility. As you enter the road leading up to the plant, wild geese freely stroll about the wetland area in front of the facility.
GM Baltimore Operations (GMBO) is really a great poster child for today's manufacturing. While the old image of the smokestack industry is still somehow embedded in the public consciousness, the reality is that today's manufacturing, best epitomized by GM, is one of the most innovative,  technically advanced and highly productive industries in the United States.
The Baltimore facility is GM's exclusive manufacturer of the two-mode hybrid and heavy duty A1000 transmissions. It is also the latest example of overseas manufacturing coming back to America. Another plant is being built on the premises and will house its electric motor business, brought back from Mexico, making GM the first major U.S. automaker dedicated to manufacturing the critical components for vehicle electrification when the plant opens in 2013.
"GM's decision to bring the electric motor business here shows a huge commitment to our people and our facility," said Bill Tiger, Plant Manager for GMBO.
The new, nearly completed 100,000 square-foot facility is built adjacent to the existing hybrid facility and is expected to employ at least 190 workers.
As GMBO expands its automotive production operations, it has also expanded its energy conservation efforts and it has wholly embraced community engagement. The GMBO has been a sustainability leader in the state in terms of its recycling efforts and went landfill free in 2007; Chevrolet signed on as Baltimore's National Aquarium Official Conservation Vehicle, helping to return sea turtles to their natural habitats; GMBO attained a wildlife habitat certification for creating and enhancing a wildlife habitat on their grounds, and most recently it signed on with executives from a group of five other manufacturers led by Maryland's Regional Manufacturing Institute (RMI) of Maryland to participate in an energy conservation initiative.
The RMI energy conservation "green team" program is operating under an U.S. Department of Energy grant through Baltimore County, Maryland, to help manufacturers with their energy conservation needs. RMI's team is helping GM better understand the total energy footprint being consumed at the facility and suggesting specific actions to cut back on energy demand.
RMI experts met with GM's engineers to review both the existing operations and the building design at the new 100,000 square foot plant. RMI expert consultant Jeff Fuchs, Director of the Maryland World Class Consortia, used some lean methodologies like Value Stream Mapping (VSM) to target potential energy savings opportunities for the new facility.
"Lean and green are interwoven," said Fuchs. "The VSM process allowed us to clearly present what was really going to happen in the production process, which exposed the opportunity for energy savings."
As the team looked at the new building going up, they wanted to know how best to assess its future energy consumption.
"By applying VSM from an energy conservation approach, we discovered some major energy consumption items that the engineers had missed," said Tiger. "This finding is going to help GM save energy, particularly when we shut down and start up equipment. We never considered using VSM for energy consumption."
"We are very happy to contribute to these energy savings," said Dr. Michael Galiazzo, President of RMI. "GM has been a great contributor to our green team as our manufacturing group has learned a great deal from their experiences. They've gone the extra mile in sharing best practices, and the other companies really appreciate it."
RMI is also providing in-house training programs to the GM staff, through a grant, funded by the Maryland Department of Labor Licensing and Regulation, to help them further cut down their energy consumption. The RMI instructors are focused on getting the employees to save energy at home as well as work. Much of the training actually occurs on the floor and uses a "self-directed green-team approach," in which green teams are formed and empowered to provide guidance on the course direction.
Tiger really values this approach and is looking for some big improvements coming out of the sessions.
"For us to take the next step, we need everybody on the floor engaged." he said. "Now, instead of one person running around turning off the lights, everyone will be vested in conserving energy."
GMBO says it is committed to being a positive force for the environment. That's obvious from the initiatives undertaken, both within and outside the facility. They recently had a bus load of fifth graders to the facility to learn about recycling and to help plant 200 trees at their Wildlife Habitat.
"When you realize you can be a positive force for the environment and it really doesn't cost that much, and it's about doing the right thing, it becomes very contagious," said Tiger.
By Peter R. Gourlay, RMI Green Team Manager/Coordinator and Columnist for Manufacturing Today Magazine. He can be reached at peter.gourlay@mdaep.com.