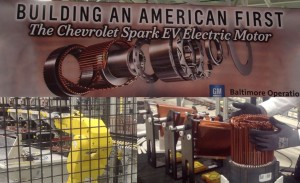 GM Baltimore Operations' brand new eMotors facility was officially launched on April 16. The facility is GM's exclusive manufacturer of A1000 transmissions for heavy duty pickup trucks and electric motors and drivetrains for the Chevrolet Spark EV.
Maryland Governor Martin O'Malley was on hand to mark the occasion with GM officials. He congratulated GM's green innovation and recognized Mike Galiazzo's leadership on Maryland's advanced manufacturing movement.
GM engineers highlighted the fact that the new facility has as much data and IT capability as there is physical machinery. As the 27 robots whirl about throughout the new brighly lit factory with utmost precision, GM engineers highlighed the value they bring to the production process citing increasted flexibility, quick changeover, retooling and enhance continuity.
RMI will host a Breakfast Series forum at the new eMotors facility showcasing the value of the 27 robots being used at the new eMotors facility featuring GM Plant Manager Bill Tiger on Tuesday April 23.