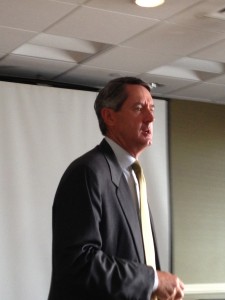 April 10, 2013, Timonium, MD –  More than 35 manufacturing stakeholders attended a Regional Manufacturing Institute (RMI) Breakfast Series event in Timonium to hear one of the first Maryland companies speak on bucking the outsourcing trend by bringing some of its overseas operations to the state.
Dale Williams, Chief Operating Officer of Chesapeake Bay Candle, recounted the unique story about why Chesapeake Bay Candle brought some of their manufacturing business from Asia to open a new facility in the U.S. in June 2011. According to Williams, at the start of 2008, Chesapeake Bay Candle found itself at an interesting crossroads. The home-grown Maryland candle business started in 1994 in Annapolis by co-founder Mei Xu and her husband, David Wang. From humble beginnings of developing candles in their basement out of soup cans, they expanded rapidly and eventually were importing candles from their own China and Vietnam manufacturing facilities to meet the demand from U.S. clients.
They wanted to make sure they were managing the business effectively, so in early 2008 they hired an outside manufacturing veteran to help them expand their business.
"When I joined the business, things really looked good, but then came the great recession later that fall," said Williams.
The firm needed to take a hard look at the business as they realized their major niche was making one product really well from factories based overseas for the U.S. market.
"We were very vulnerable to events that could impact us beyond our control," said Williams.
Years earlier, the company had been forced to expand manufacturing into Vietnam when the U.S. Department of Commerce imposed 110 percent duty on China candle imports.
As Chesapeake Bay Candle moved most of its candle manufacturing to Vietnam, they discovered that their new manufacturing location didn't insulate them from external shocks. As manufacturers continued to flee China for the lower labor in Vietnam, prices for Vietnamese labor skyrocketed by 46 percent.
"We had to take a hard look at the full cost of our product imports throughout the whole supply chain," said Williams.
They looked at labor, freight, lead time, compliance costs and third party testing.
"All of these prices were going up," he said.
Chesapeake Bay Candle was in the fashion business with fragrance as the centerpiece.
"We had lots of design work, lots of SKUs and working capital tied up in inventory for as long as five months," he said.
Meanwhile, clients like Target and Bloomingdales wanted more candles, and they wanted them cheaper and faster.
The evaluation process helped the company project trends in the industry and prepare to respond to them.
"We wanted to have enough self-awareness to understand why people buy from us," said Williams.
In conversations with customers, the company recognized that clients valued Chesapeake Candle for its fashion leadership and prolific product design capability. It had become an industry force for its ability to both forecast and interpret trends, and also provide good customer service. They also realized the fading labor benefit from its overseas production and the continued impact of higher transportation and inventory cost. They began to evaluate the benefit of producing product closer to their U.S. clients.
Once the decision was made to explore setting up a facility in the U.S., they needed to evaluate the best location for their business.
"We looked at several states and alternative locations and then realized that we wanted to be in Maryland where we were headquartered," said Williams.
They decided that an existing building facility in Glen Burnie would provide the ideal location and set out to create process layouts and engineering requirements and purchase the necessary equipment needed to set up operation.
"We learned some hard lessons in setting up a manufacturing operation in Maryland," said Williams.
The amount of regulations and permitting requirements were very complex.
"It took twice as long and ended up being twice as expensive to establish our operations due to the myriad of code requirements, hazmat and fire control retrofits," he said.
"While we have enjoyed very good productivity from our Maryland plant, we don't want other manufacturers to have to go through the learning curve of what we experienced," said Williams.
He encouraged the State of Maryland to do a better job of developing closer cooperation between the State and counties related to permitting hurdles faced by manufacturers.
"The process was very discouraging. Nobody had the answers," he said. I can't imagine too many other companies putting up with what we experienced," he said.
Williams said that Maryland could attract more manufacturers to set up operations in the State by providing "how-to guidelines" for setting up facilities in the state and establish a concierge service of "knowledgeable officials" to help companies get through the process. Chesapeake Bay Candle had to hire a myriad of service providers to comply with codes that weren't well understood by the enforcement agencies or by their hired expert consultants.
"At the end of the day, we made the right decision," he said.
Despite the arduous regulatory process since opening the facility in June 2011, the firm has been able to double their shifts and double their production capability.