Hundreds of Maryland Manufacturing Stakeholders Celebrate A Bold Vision for the Future.
Read below for an overview of RMI of Maryland's 2022 Maryland Manufacturing Celebration event. For your quick reference, here are links to the photo gallery, videos and other resources featured in the recap:
Celebration Photo Gallery | Celebration Event Program Videos | Tribute Video for Dr. Mike Galiazzo |Future of Maryland Manufacturing Video | Future of Maryland Manufacturing Message | 2022 Champions Directory | 2022 Celebration Sponsors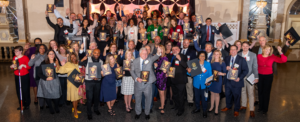 Over 700 manufacturing industry stakeholders gathered on November 17th at Regional Manufacturing Institute of Maryland's (RMI) 2022 Celebration of Maryland Manufacturing. The evening was designed to celebrate RMI's 32 years as Maryland's leading advocate for manufacturing and to build excitement for the future of the industry. It was a night that proved to be unlike most traditional business events and was one that was made possible through the support of almost 80 sponsors.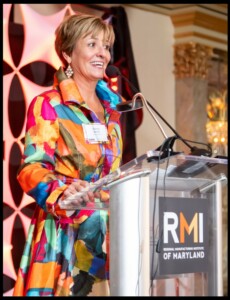 "This event was about people feeling good and hopeful for the future. The energy in the room was electrifying. You couldn't help but walk away from that event feeling excited about where Maryland manufacturing is headed." 
Stacey Smith, Director of Outreach & Events, RMI of Maryland
View the full event photo gallery here. Note: Click on a photo to download it. You can download AT NO COST using download arrow found on the left side of the photo after you have clicked on it. Ignore all "Buy" buttons on the site. Photo credit: Maximilian Franz Photography
View all 2022 Celebration sponsors here.
2022 Champions of Maryland Manufacturing Honored

Among other things, the Celebration event honored the 2022 Champions of Maryland Manufacturing and the 2022 Grand Champion, RMI President Mike Galiazzo. Champions are those whose efforts and successes within or in support of Maryland manufacturing deserve recognition. More than 120 stories of such efforts and successes in 2021-2022 were collected by RMI and are showcased in the online Champions Directory. Nearly 80 of the 2022 Champions were in attendance at the Celebration. They were recognized via an enthusiastic walk down the red carpet with their awards to the song "Celebrate" by Kool & the Gang and then posed for a group photo in front of the full audience.
Additionally, RMI's President Mike Galiazzo, who has served as RMI's President since its inception in 1990, was honored for his extraordinary efforts over those 32 years. Baltimore County Johnny Olszewski presented Mike with a proclamation naming November 17, 2022 as "Dr. Mike Galiazzo Day." With heartfelt remarks from April Richardson (Baked in Baltimore), N. Scott Phillips ( MBDA Mid-Atlantic Advanced Manufacturing Center Baltimore, Susan Ganz (Lion Brothers) and Aris Melissaratos (ArMel Scientifics and RMI Board Chair), and a tribute video with sentiments from others who have known and worked with Mike over the years, Mike was introduced and brought on stage to rousing applause and a standing ovation.
View the Mike Galiazzo tribute video here.
Making Maryland a National Showcase
From the stage, Mike thanked the many individuals and organizations who have played a role in RMI and Maryland manufacturing's growth and sustainability. He then turned his comments to focus on "where we go from here" saying, "Maryland can be a national showcase for next-generation manufacturing. We have the talent and the technology to make that happen."
Mike introduced a video produced by RMI that highlights a vision for Maryland as a national showcase for manufacturing. His additional remarks included a call for collaboration among the private and public sectors in order to be successful in this endeavor. View the video here.
Additional comments made about the future of Maryland manufacturing at the Celebration event are summed up in a letter from Mike Galiazzo that was featured in the Celebration program distributed at the event. View the letter here.
Elected Officials Were In Attendance

In addition to the Baltimore County Executive, key legislative leaders were in attendance to hear the  message of hope for the future and of the need to create more pathways for Marylanders to find well- paying jobs with benefits through careers in manufacturing. They included:
Adrienne Jones, Speaker of the House and Maryland State Delegate
Benjamin Brooks, Maryland State Delegate
Brooke Lierman, Maryland State Delegate and Comptroller-Elect
Charles Sydnor, Maryland State Senator
Chris West, Maryland State Senator
Lily Qi, Maryland State Delegate
Michele Guyton, Maryland State Delegate
N. Scott Phillips, Maryland State Delegate Elect
Shelly Hettleman, Maryland State Senator
Also in attendance was Julian Jones, Jr., Chairman, Baltimore County Council, Eric Costello, Baltimore City Councilman, and Ed Rothstein, Carroll County Commissioner. Sidelined from attendance due to COVID was long-time friend of RMI, Senator Kathy Klausmeier.
RMI & MD MEP Strategic Alliance Announced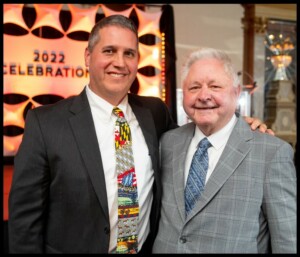 Following remarks from Mike Galiazzo, Maryland Manufacturing Extension Partnership (MD MEP) Executive Director Mike Kelleher took to the stage to announce a more strategic alignment between RMI and MEP going into 2023 and beyond. "Our strengthened partnership will bolster RMI's ability to advocate for the industry and identify resources to help Maryland manufacturers grow and thrive. It will  strengthen the voice behind the message that Maryland manufacturing matters," noted Kelleher.
Beginning in January 2023, MD MEP and RMI will introduce and execute on initiatives and programs in collaboration with each other.  MD MEP will also continue with its own mission of providing direct services (e.g., training, access to funding, workforce development support, etc.) to the state's manufacturers.
Dr. Mike Galiazzo Manufacturing Community Fund Announced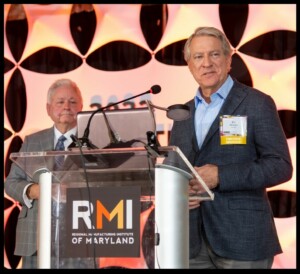 Before the program's conclusion, Mike Kelleher invited Bill Wiedel, CFG Bank President, to the stage. Together, they announced the formation of the Dr. Mike Galiazzo Manufacturing Community Fund to which RMI and CFG Bank each pledged $10,000.
The fund will be used to support manufacturing educational programs and other initiatives to expand career awareness and the transformation of Maryland's manufacturing industry into a next-generation national showcase.