A Letter From RMI President
"Where do we go from here?"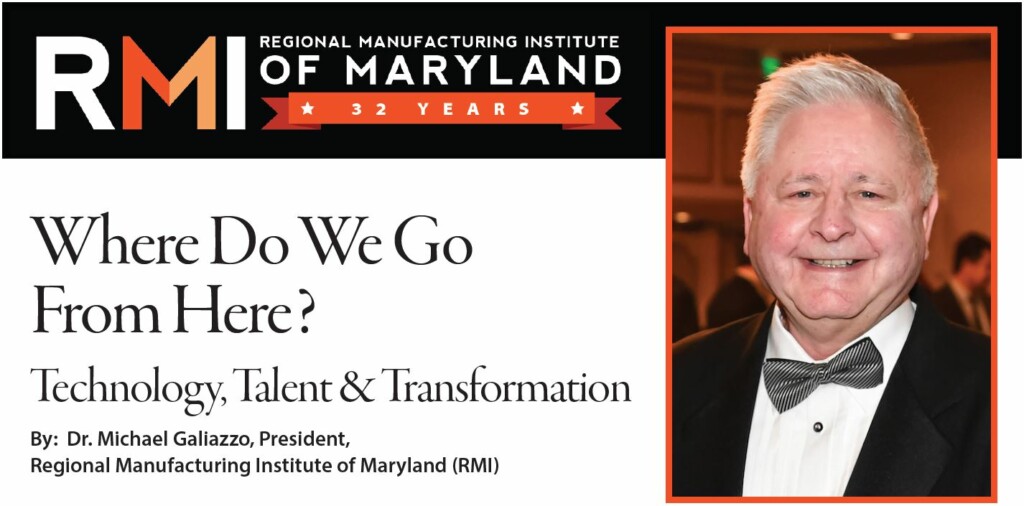 For over 32 years, the Regional Manufacturing Institute of Maryland (RMI) has been a leading advocate for Maryland manufacturing because manufacturing is an instrument of social change. Manufacturing improves lives, strengthens communities and families, and creates wealth.
Today, the outlook for Maryland manufacturing is, in a word, transformational. The inescapable reality is that our industry is changing, and change is occurring fast. Technologies are at the heart of this shift, and the term "business as usual" needs to be retired when talking about manufacturing. How companies organize to work and compete globally requires adopting technologies that alter business strategy, product design, production, supply chains, and customer satisfaction.
Maryland is uniquely aligned with the future to become a national showcase for next-generation American Manufacturing. We can show others the way. Our undeniable world-class R&D ecosystem, the culture of innovation, and diverse visionary leadership represent a prescription for "Making it in Maryland" and making history. No other state or country has the assets to transform talent and technology into a powerhouse of economic and social change for the good of all.
If we think big and act bold with imagination, Maryland Manufacturing will be a crown jewel of a robust high-tech economy "making goods that are good for the world." As such, future workers in manufacturing will enjoy higher-paying jobs with benefits, and they will become creators and makers, leading our state into the future.

As Maryland enters a new chapter in history, with energetic visionary leadership, let us make Maryland manufacturing a priority together. Let us grow our economy and R&D and increase opportunities for all citizens to achieve significance in our communities. Governor-elect Moore, we are not leaving anyone behind in our vision for manufacturing. There is a place in manufacturing for all Marylanders. After all, manufacturing is all about family.