RMI Year End News Highlights
Mike Galiazzo recognized by the Daily Record as 2018 Influential Marylanders.
RMI on track to save manufacturers over $1 million in energy savings
RMI recognized by Marylander clean Energy Center as 2018 Partner of the Year
RMI first to be named apprenticeship Ambassador by Maryland DLLR Secretary
RMI recognizes Aris Melissaratos as Grand Champion of Maryland Manufacturing and awards 39 Champions of Maryland manufacturing from eight nomination categories
RMI Publishes 2018 Champions of Maryland Manufacturing Yearbook
Strategic Initiative Highlights
Techtonic Shift
The Techtonic Shift Initiative focuses engaging tomorrow's manufacturing workforce: students excelling in science, technology, math and engineering. Over the last few years, RMI has engaged student STEM and technology groups and showcased their expertise to Maryland's manufacturing leaders through various showcase events.  Throughout the year, RMI continued its effort to provide connections to manufacturers for both current needs as well as future needs through several events during the year including Maryland Manufacturing Day and our Techtonic Shift Matchmaking Expo.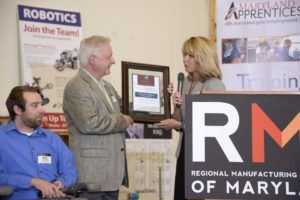 RMI was the first organization to be named an apprenticeship ambassador by DLLR Secretary Kelly M. Schulz.  The initiative is designed to help promote an incentive program that raises awareness about registered apprenticeships and encourages job seekers and businesses to engage in apprenticeship opportunities.  During November Apprenticeship Week, RMI hosted an event with Secretary Kelly Schulz and her team as part of National Apprenticeship week.  Fourteen manufacturing companies were connected with DLLR staff to set up apprenticeships at their companies.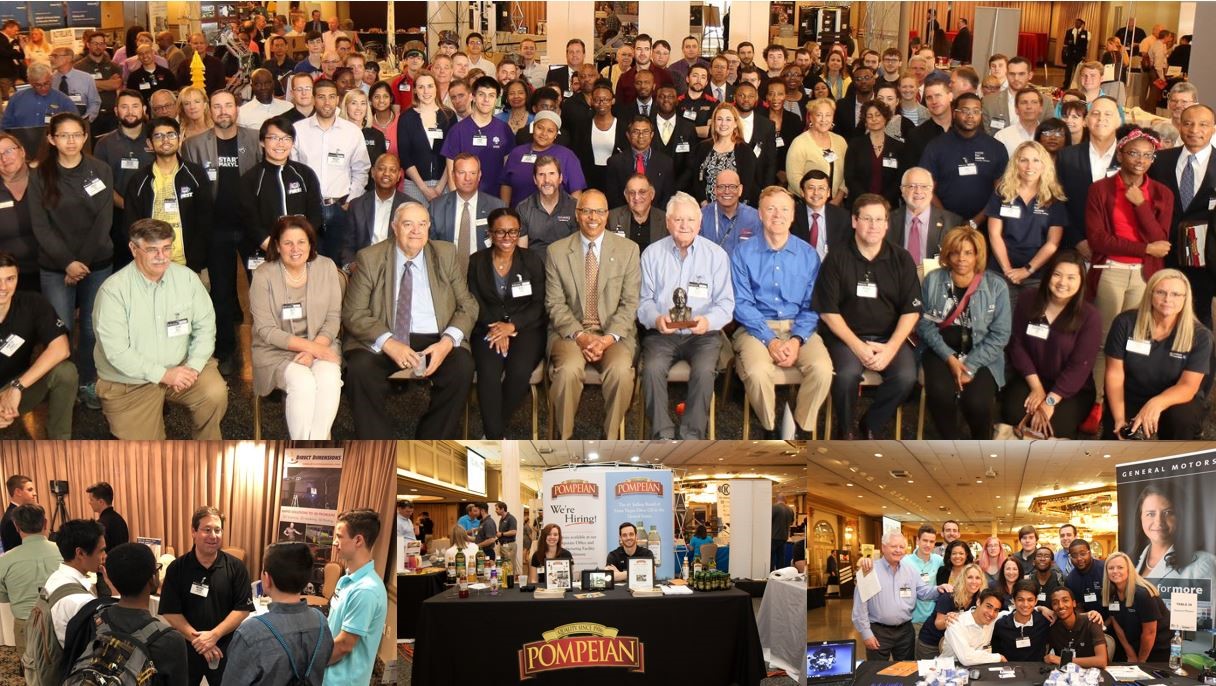 Over 500 visitors and exhibitors came together at RMI's Techtonic Shift Matchmaking Expo at Martin's West in partnership with the Governor's Workforce Investment Board. Lt Governor Boyd Rutherford visited students and manufacturers and spoke to the group.  The goal of the event was to bring manufacturers who were seeking talent and connect them to DLLR resources, job seekers, employee and manufacturing resources together all in the same room for a day-long networking opportunity. A key emphasis was placed on mobilizing STEM student attendance, the future workforce for Maryland's advanced manufacturing companies. Having all these resources in one place was a great opportunity for both the manufacturers and the job seekers.
On Maryland Manufacturing Day RMI hosted our Eastern Shore Energy Forum with our partners at SWED and MEA featuring executives from PRS Guitars, K&L Microwave, Trinity Sterile and Toroid Corporation with Wicomico County Executive Culver and Salisbury Mayor Day. Teachers from Salisbury's Patterson High School attended the program to help better understand manufacturing job opportunities for their students.
On Maryland Manufacturing Day in Timonium, MD RMI hosted an event at Star Academy for BCPS students who were immersed in learning about Industry 4.0 Technologies at Star Academy – it was a great success! RMI partnered with Baltimore County Public Schools, Star Academy, Maryland Commerce, Baltimore County Government, Maryland MEP, ELM and local manufacturers on October 5 in Timonium. 160 students attended!
RMI's Emerging Leaders in Manufacturing initiative kicked-off with a group of young professionals across manufacturing companies in Maryland. RMI is looking for young entrepreneurs and student engineers to join ELM to become the next generation of manufacturing and create a greater awareness about the future of manufacturing. RMI encouraged other young professionals in Maryland to join ELM manufacturing to promote a positive image of manufacturing.
RMI, Star Academy and Direct Dimensions teamed up to demonstrate manufacturing 4.0 technologies at the Junior Achievement Inspire event in October. Several thousand Baltimore County school students visited the event to learn about careers in various industry. Students visited RMI booths to learn about manufacturing and technologies in our industry.
RMI seeks your help to create a manufacturing workforce pipeline for the future.  If your organization would like to work with RMI to support RMI's Techtonic Shift Initiative, contact Peter Gourlay at RMI today at peter.gourlay@rmiofmaryland.com or 443-275-2489.
Manufacturing Image Campaign
Recognizing the Champions of Maryland Manufacturing is a key element of RMI's Image Campaign to help put a face on today's manufacturing. By helping to tell the stories of those that are championing the manufacturing effort in Maryland, we help policymakers better understand the products made in their jurisdictions and how those goods help us in our daily lives. We also help educators, parents, and kids see manufacturing as a viable, enriching career opportunity.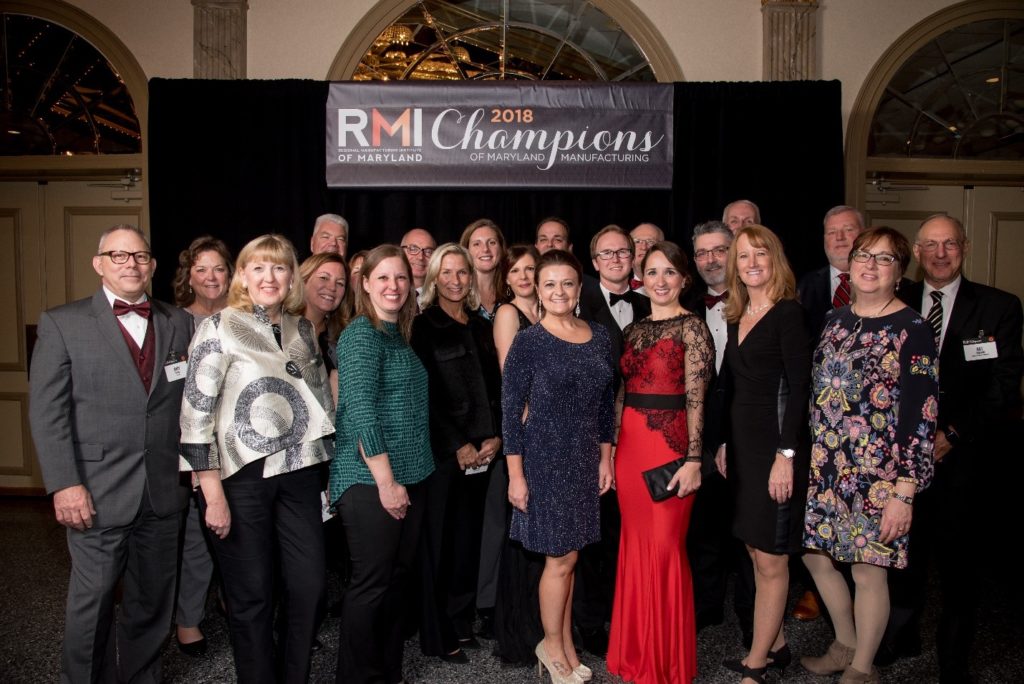 During 2018, RMI received 280 nominations for Champions and selected the top five from each nomination category.  The Champions awards ceremony drew over 600 stakeholders from around the State.  The top five 2018 Champions of Maryland Manufacturing in each of the following nomination categories: Community Engagement, Emerging Leaders, Energy & Sustainability, Growth & Productivity, International Business, Manufacturing Technology (Industry 4.0), STEM Student Advocate and Talent Attraction.  The evening awards program touched on the themes of togetherness and family as we celebrated a variety of different leaders from young students to business executives.  Champions received their awards and saw their Champions features in the newly published 2018 Champions of Maryland Manufacturing Yearbook. If you are interested in helping RMI continue to promote the image of Maryland Manufacturing, please give us a call today at 443-275.2489 or email peter.gourlay@rmiofmaryland.com.
Energy Program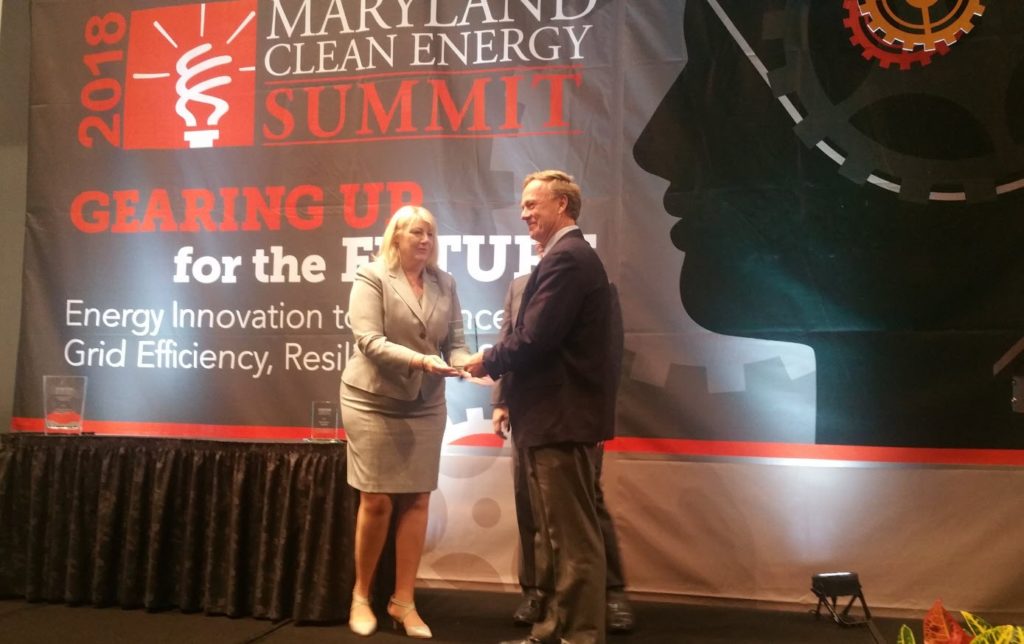 RMI Recognized received an award for its partnership approach in helping manufacturers save energy.  The Maryland Clean Energy Center (MCEC) recognized RMI regarding its program with manufacturers in the BGE service area to reduce energy with its "Partnership Award," presented at their Clean Energy Summit.  Results from the program included energy upgrade commitments from manufacturers of over 24,000,000 kWh, saving participating companies over $2 million in energy costs.
RMI's Partnership with the Maryland Green Registry resulted in more than 20 manufacturing firms becoming Green Registry members, showcasing their commitment to energy efficiency sustainability. Many of these companies continued their sustainability approach even after RMI's grant ended.
RMI also launched its Energy Program for manufacturers being served by both PEPCO and Delmarva, now available to eligible manufacturers. RMI is currently serving 23 manufacturers in the program who are in the process of upgrading projects that will reduce over 10,000,000 kWh with an energy savings of approximately $1 million.
If you are a manufacturer being served by either PEPCO or Delmarva Power, we encourage you to call Peter Gourlay today to set up an appointment at 443-275-2489.  Our expert engineering team can provide you with complementary energy assessment and help you find resources to pay for energy upgrades as well.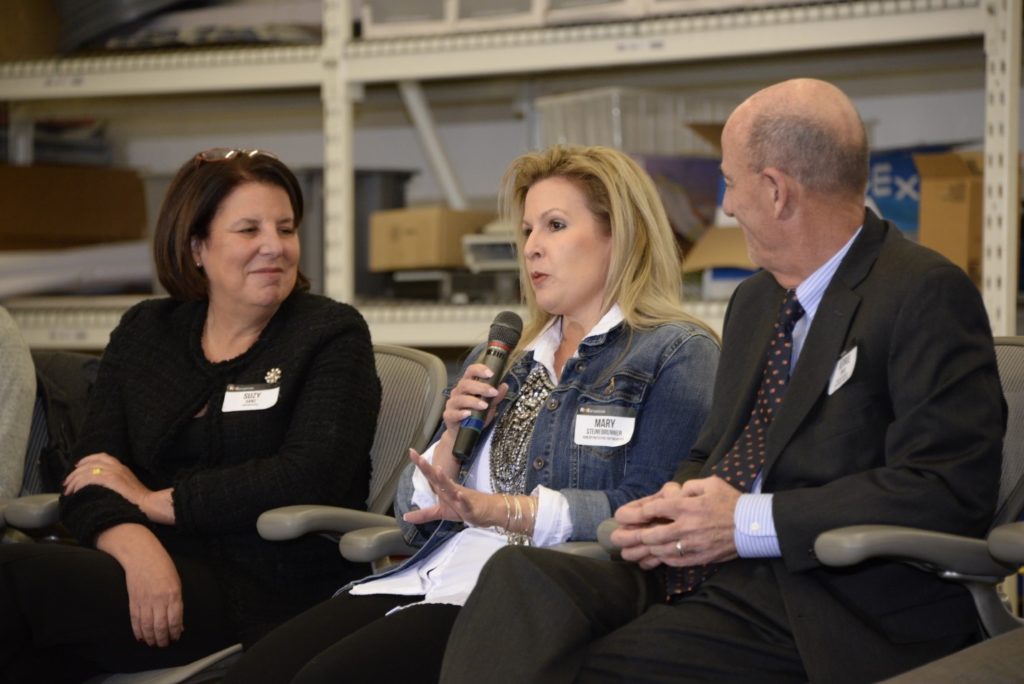 Industry 4.0
RMI continues to provide outreach programs to help educate manufacturers on Industry 4.0.  Competitive companies are adapting to this next phase of digitization which is driven by exponential rise in data volumes, computational power and connectivity, emergence of analytics and business intelligence capabilities, new forms of human-machine interactions and improvements in digital instructions like advanced robotics and 3D printing.
Some of the larger manufacturers Maryland are likely aware of how the "Internet of Things" phenomena are affecting their competitiveness and adapting accordingly.  However, most small-to medium-sized manufacturers are unaware. RMI recognizes that manufacturers are consumed by their current competitive environment and may lack the bandwidth to consider what aspects of Manufacturing 4.0 would be most relevant for them.
Accordingly, RMI continued to provide outreach programs in 2018 to help educate manufacturers about 4.0 including:
The Future Impact of the 4th Industrial Revolution on of Maryland Manufacturing drew 300 participants at Star Academy
Exploring the basics of Industry 4.0 workshop to learn how digital technologies are applied in manufacturing.
Applications of Industry 4.0 Digital Technologies workshop showcased a range of amazing 3D scanning applications from aerospace, automotive, art and architecture to military, museum, medical and movies by Direct Dimensions, one of the leading 3D scanning firms in the world.
Robotics on the Shop Floor Means Profits – 4.0 Applications workshop
RMI partnered with the Cybersecurity Association of Maryland to provide leading cyber expert insights on the ever-present threat to manufacturers as they become more digitally integrated. The event drew over 90 areas business participants.
RMI will continue to engage manufacturers in 2019 to help connect you with resources to help you on your digitization journey.  Sign up for RMI's Future of Maryland Manufacturing in 2019 event and learn how Stanley Black & Decker see's the impact of Industry 4.0 on manufacturing.  Stay tuned for upcoming news on our 2019 plans.