December 4, 2020
10-10:45 a.m.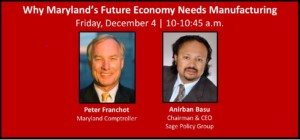 Peter Franchot, Maryland Comptrioller, and Anirban Basu, Economist & Chairman & CEO of Sage Policy Group, will discuss the following:
Importance of manufacturing to our economy today and in the future.
Job openings and why filling those jobs helps our economy.
Our future economy and making manufacturing an essential industry.
Opportunities for Maryland manufacturing growth
NOTE: No cost to tune in but registration is required. This program is being offered via a Zoom video webinar that requires a passcode to log in. An email with log in information and passcode will be sent to all registrants within 48 hours of the date of the program. If you have any questions, please email Stacey@RMIofmaryland.com or call Stacey Smith at 443-844-0047.
Cost: No cost but registration is required.
Sponsorships available. Contact stacey@RMIofmaryland.com for details.