May 15, 2013 – Timonium, MD – On Tuesday morning, more than 30 manufacturing stakeholders attended RMI's Breakfast Series and heard Green Bay Packaging's General Manager Tyson Aschliman share insights on how his firm has increased productivity by going green.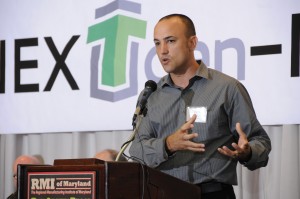 Aschliman recalled a turning point for his firm occurred when a 2011 summer brown-out crippled the plant's electronic drive systems. He used that event as an opportunity to revamp how they looked at energy.
"That accident cost us over $100,000," said Aschliman. "It was a big wake-up call, reminding us that energy is a big target cost area, directly tied to our profitability. I never used to look at the energy bills before. That has all changed now."
In the fall of 2011, GBP joined an energy conservation initiative to be part of a self-directed green team program with a cohort group of five other manufacturers led by RMI. The program was operated under at U.S. Department of Energy grant through Baltimore County, Maryland to help manufacturers with their energy conservation needs.
"The timing of this initiative was great," said Aschliman. "We reviewed our operating procedures and realized that we needed systems to help us tie our goals to improved productivity. Those productivity improvements also helped the firm save energy. As GPB went through this process, they found a lot of waste in the system.
"We stumbled into sustainability and profited. GBP made some modifications that required little or no costs, but reaped huge savings. In the first year, the company realized $40,000 in savings by conserving energy use and curbing their waste stream while increasing their productivity by 22%."
As the plant manager, he is quick to point that his commitment to being greener is not an altruistic effort.
"I'm not interested in saving the planet, I'm interested in saving the plant," he said.
He also talked about the importance of culture change and getting folks committed to saving energy, recycling wastes and decreasing set-up times on the machines.
"It all goes hand-in-hand," he said. "As our employees become more incentivized to become more productive, our firm benefits. They benefit, and our community benefits."
Aschliman struck a chord with the manufacturers in the room as he explained how he views sustainability from a business perspective.
"Sustainability to me means how to become more efficient in finding new markets and growing our business. As we do more with less, we are becoming a more profitable and a more responsible company," Aschliman emphasized. "Bottom line: We are becoming more ecologically sustainable by ensuring our economic sustainability."