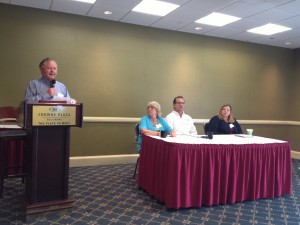 June 6, Timonium, MD. Over 60 manufacturing stakeholders gathered at the RMI Breakfast Series to hear insights from GM Baltimore Operations, Middle River Aircraft Systems and Ellicott Dredges on what works and what doesn't in recruiting and retaining manufacturing talent.
"We were really tested recently when we received an aircraft reverse thrust order from Boeing which required us to quickly find 350 new hires," said Jenny Williams, HR Director for Middle River Aircraft Systems, a division of GE Aviation. "I knew we didn't have the technical talent in the area to fill these positions, so we took a different approach where we made some minimum requirements with no previous manufacturing experience," she said.
The panelist and audience members including Marlin Steel Wire Products, Acadia Windows & Doors, Intellitech, Canam Steel, Chesapeake Spice Company, DAP Products, Lion Brothers and Green Bay Packaging, nodded in agreement that the skills shortage is an ongoing problem and manufacturers must learn to deal with it. There is a real disconnect between the qualifications of those coming out of the educational system and today's manufacturing needs.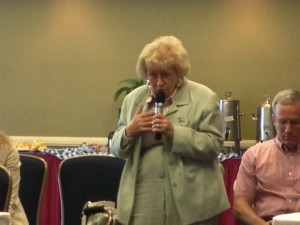 Former Congresswoman Helen Bentley was the honored guest at the event. She felt strongly about the disconnect as well as she emphasized that the system was not working and their is an immediate imperative to get better results from our educational system.
While many of today's manufacturing jobs require technical, advanced degrees, Mike Galiazzo, President of RMI says that there's a bigger problem. "First, the educational system is not sending  us students prepared to work in environments that require high standards, teamwork, and the effort to get a job done successfully. Its a problem of attitude and effort, not just technical competence. Second, we are consistently seeing a real lack of work ethic among new recruits," he said.
So how are manufacturers finding new talent? Most say that referrals and word of mouth are some of the top avenues. GM Baltimore Operations Plant Manager Bill Tiger said they use websites like LinkedIn as well and find that those with warehousing experience are good candidates. GM looks for recruits that "play well" together and that have a basic mechanical aptitude. "We don't hire by offering jobs at GM," he said. Even when they get interest, he says that 25% of them don't even show up for their first interview.
Ellicott's HR Director Sandy Crawford said that in 2008 she was given the job to double their workforce. "We went to an outside temp agency to help get us welders, mechanics and machinist. The agency did great. Now retaining the employees is a different matter. We provide good perks, but sometimes we just lose them because of a lack of will to work," she said.
"I talk to manufacturers every day and they say their biggest challenge is getting employees to show up at work each day," said Galiazzo. Williams seemed to echo this point. When they hired the 350 workers for the new reverse thrust order more than 100 were released do to attendance problems.
Tiger talked about their unique problem to find the right talent where GM is now switching from a downsizing mode to a ramp-up mode. "Finding electric motor talent is really challenging since the U.S. has never had an electric motor car plant before," he said. "No one has any experience in this," said Tiger.
"We need to get our new non-manufacturing employees to get over the stigma of working in a factory," he said. He also stressed the millennial generation has been told that they don't need jobs and that they'll change companies five or six times. "We are really challenged on how to keep them after we make such a big investment in them." But he does see some opportunities. Tiger proudly discussed how they recently nurtured several Johns Hopkins University interns who they have now hired as full time employees.
What is working? At Middle River Aircraft Systems, they decided to develop their own training center in house. They took their best senior union employees who do the work off the floor to teach one week classes to new recruits. The training center helps build confidence for the job. Such training also provides connections to allow for ongoing informal mentoring relationships to be developed and teaming programs to help new employees understand what they need to do to succeed.
"We need to get over the issue about the lack of skilled workers," said Williams. "You've got to meet people where they are…our business will fail without the right worker," she said. Williams said if they have the skills to read and follow directions, she feels they can teach them what they need to know to succeed. A key element of that training is incentivizing the employees to value their jobs. "One tactic that has proven extremely successful is showing employees a financial projection based on their current and projected earning so that they can see how much they'll be earning in 10 years if they learn their job and stick with it," she said. "You'd be amazed at the reaction when the light bulb goes off," she said.