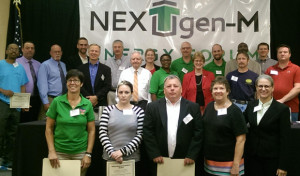 July 14- Timonium, MD – On Wednesday morning at Timonium's North Plaza Hotel, the latest group of Maryland manufacturers participating in the Regional Manufacturing Institute's Energy Efficiency program announced their results as they graduated from the RMI program.
The RMI Energy Program is one of several initiatives RMI has orchestrated to help reduce costs for Maryland manufacturers and increase their competitiveness.  With the ever increasing competitive pressures from overseas and elsewhere, energy is an important area of focus.
Over 120 manufacturing stakeholders were in attendance to hear from the recent group of graduated companies included American Yeast, Beynon Sports, Cloverland Farms Dairy, J.M. Huber, M.S. Willett, Pompeian, Pritchard Brown and Products Support, Inc. The firms benefited from a host of RMI expert services including a Level I energy audit, executive peer leadership meetings and change management training for employees that helped the companies to move forward on committing to energy efficiency and waste reduction at their facilities.
The audience heard from new RMI Chairman Aris Melissaratos and the newly appointed director of the Maryland Energy Administration Mary Beth Tung.  They set the platform for discussion outlining the challenges that manufactures face to be competitive, while also stressing the State's commitment to their future success.  Most importantly, the message was clear about the imperative for energy efficiency to allow for further innovation in an era of tremendous change current trends of automation and data exchange in manufacturing technologies
The featured companies were the final group that graduated from RMI under a three year $3 million grant in partnership with the Maryland Energy Administration to help reduce energy consumption for over 60 Maryland manufacturers the BGE service territory.  The 60 firms are collectively in the process of reducing 17,000 megawatts and have planned for another 7,000 megawatts in energy reduction by the end of the year.
One of the program participants, Scott Wiley, President of defense contractor Products Support, Inc (PSI) was a bit skeptical about the service offering at first.  "When I heard about the RMI Energy Program I thought it was too good to be true."  PSI signed up to join the program last fall and received an energy audit, created his green team to help create a culture of energy efficiency and participated in monthly leadership meetings to share best practices.
"We have already saved 30% off our energy bill just through from the Green Team that RMI helped us establish," said Wiley.  "Additionally, RMI helped us secure a $120,000 grant from the Maryland Energy Administration and coupled together with the BGE rebates they helped us get approved, PSI will reduce its capital investment by $178,000," he said.  The energy upgrade investment will help provide more efficient lighting and HVAC systems which is projected to reduce their energy use by 311 megawatts and save the firm over $49,000 off their electric bill annually.  "The program actually worked out very well.  I couldn't be happier," said Wiley.
"Our goal for each company was to help them not only reduce their energy load, but create that ongoing commitment to waste reduction," said Mike Galiazzo, President of the Regional Manufacturing Institute of Maryland (RMI).
Manufacturers like Cloverland Farms Dairy is already reaping the benefits of their Green Team established by RMI.  "The Green Team helped us get the whole facility to own the process," said Eric Molinaro, Director of Food Safety and Quality Assurance at Cloverland Farms Dairy in Baltimore.  As the team investigated opportunities for waste reduction, they looked at their $18,000 a month costs for sending wastes to landfills.  They did some investigation on how they might improve recycling to cut costs and recently announced that Cloverland will be the first company in the U.S. to use the Brickman plastic waste compactor to reduce their landfill cost.  As a result of the initiative, Molinaro said Cloverland is reducing its landfill costs by 85%.
One of the previous program graduates, C-Care, a contract manufacturer for the consumer product industry based in Linthicum, Maryland was recognized for their commitments to sustainability having recently been chosen to receive one of the 2016 Maryland Green Registry Awards.  RMI helped the firm leverage state resources with both a loan and grant from the MEA allowing them to make a $1.6 million investment to upgrade their facility and cut $187,000 annually off their electricity bill.
"RMI is leading the way to help Maryland manufacturers get positioned for manufacturing 4.0," said Galiazzo. "We look forward to continuing to work with our Maryland manufacturing network as we put them in touch with top experts in the field to help prepare them for the many challenges ahead."
Interested in joining RMI as we lead the way for Next Generation Manufacturing in Maryland, call us today and find out you can participate.  Call Peter Gourlay at 443-275-2489 or email him at peter.gourlay@rminextgenm.com.