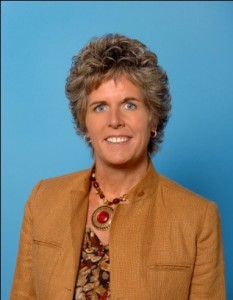 Joining her colleague Gloria A. Flach, Mary Kay Burch will be a pivotal part of RMI's "Women in NextGen Manufacturing & Engineering" forum on March 27. Burch has an extremely impressive portfolio of work, and she will bring years of learned knowledge to our forum.
Burch is Vice President of Communications, Intelligence and Networking Solutions for the Land and Self Protection Systems Division of Electronic Systems at Northrop Grumman.
Burch has executive responsibility for the diverse CINS portfolio, including lab/chamber and combat training range simulation systems (Amherst); automatic test equipment and test program sets (ATE); combating weapons of mass destruction via Chemical, Biological, Radiological, Nuclear & Explosives (CBRNE); intercoms and devices in the hands of our war fighters and Air Traffic Control (ATC) voice switching systems for the FAA and DoD (Ground Communications); and Unattended Ground Sensor (UGS) systems, Ground Vehicle Communications (GVC), RF signal collection systems, Tagging, Tracking, and Locating (TTL) systems and cyber warfare solutions of Computer Network Attacks/Exploitation (CNA/CNE) and Defense (CND) (XETRON).

Burch received a bachelor's degree in accounting from the University of Baltimore. She serves on the boards for the Regional Manufacturing Institute (RMI) and the Maryland Zoological Society. She is the ES Executive Sponsor for Connect1NG, an employee resource group connecting employees of up to five years tenure across Northrop Grumman.
Women in Next Generation Manufacturing and Engineering – Hosted by RMI and Northrop Grumman  Electronic Systems
Next generation manufacturing depends on diverse strategies, new leadership styles and a background in STEM – Science, Technology, Engineering and Math. To remain competitive in the global marketplace, Maryland manufacturers need to know how to transform diversity into opportunity. This event offers a panel/audience discussion for anyone who wants to learn about successful women leaders in NextGenM .
The event will be held March 27, 2014 from 8 to 11:30 a.m., at the National Electronics Museum (1745 West  Nursery Rd, Linthicum Heights, MD 21090). The costs are $35.00 per RMI member  and $45.00 for a non-member (membership info here) .
RMI is giving students and teachers the opportunity to attend for free, but they must register here.
For more information or sponsorship details, contact Mike Galiazzo at 410-771-8111.
Schedule:
8:00 – 8:50 continental breakfast networking
8:50 – Welcome and introductions – Mike Galiazzo, President, RMI
8:55 – 9:10 Welcome & Remarks – Laura Neuman, County Executive, Anne Arundel County
9:10  -9:15  Today's Program – Moderator – Mary Kay Burch, Vice President of Communications, Intelligence and Networking Solutions for the Land and Self Protection Systems Division of  Northrop Grumman Electronic Systems,  Member, RMI Board of Directors.
9:15 – 9:30   Remarks – Gloria A. Flach, Corporate Vice President and President, Northrop Grumman  Electronic Systems
9:30 – 10:30 Panel – Moderator – Mary Kay Burch
Nichole Hickson-Oliver, Personnel Director, General Motors, Baltimore Operations
Susan (Suzy) Ganz ,  CEO and Chair of Lion Brothers, Member RMI Board of Directors
Jenny  Regan , CEO of Key Tech
Kay Rand, Vice President of Mission Assurance, Northrop Grumman Electronic Systems (ES) sector
10:30 -11:30 Community Conversations with the Audience

Sponsors