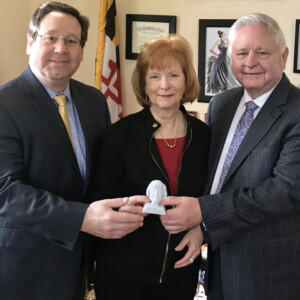 February 23, 8 AM – 3 PM
Governor Calvert House, Annapolis, MD
RMI and Maryland MEP are hosting a day in Annapolis to introduce state legislators to the innovative technologies fueling the manufacturing industry. The day will showcase technologies like 3D printing and virtual reality which will be showcased by American Bully Manufacturing and Balti Virtual, co-creators of the Squad Snaps photobooth featured at M&T Stadium during Baltimore Ravens games.
To add a bit of fun to the day, Direct Dimensions will be on hand to do a 3D head scan of visiting Senators and Delegates which students from the University of Maryland James A. Clark School of Engineering and Terrapin Works will 3D print into a physical sculpture for each participating legislator to have as his/her very own Made in Maryland keepsake.
Maryland manufacturers are invited to stop in during the day to connect with legislators and check out some of the technologies being featured. For more information on joining us, please contact Stacey smith at ssmith@mdmep.org or 443-844-0047.
P.S. – We also invite you to reach out to your local legislators to encourage them to join us that day. They don't need to register. They can simply stop in anytime. Here's a link to a flyer that can be shared.