In his remarks that day, Congressman Hoyer thanked RMI President Mike Galiazzo for his dedication to manufacturing in Maryland. Galiazzo serves on "Hoyer's Make it in America" advisory council.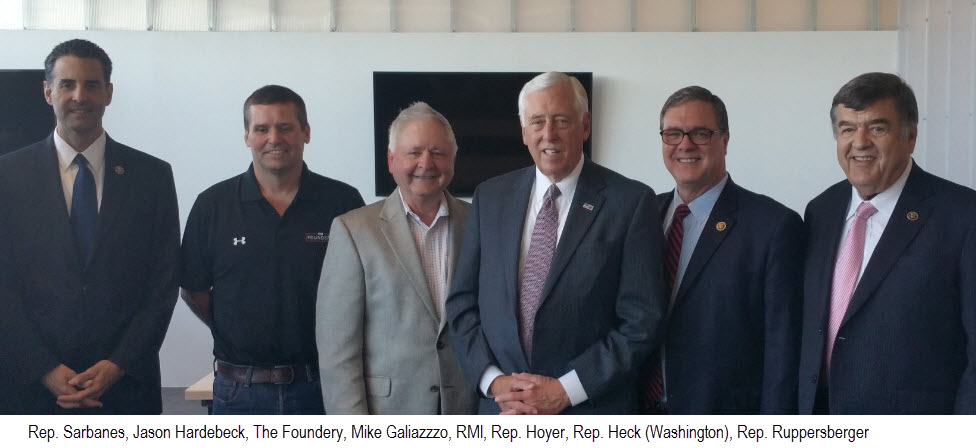 Hoyer uses Port Covington as backdrop for manufacturing plan
Article by Phil Davis, read the original article at the Capital Gazette
As part of his "Make it in America" legislative effort, Rep. Steny Hoyer on Monday outlined his plans to revitalize the manufacturing industry in Baltimore.
Using Port Covington as a backdrop to discuss his initiatives, it served as an update on a strategy he has pushed for years while industry supported measures in Washington, D.C. have stalled.
"Many Americans still haven't found good, steady jobs in the aftermath of the Great Recession and – rightfully – feel left behind by our recovery," Hoyer said. "Many people may even be working full-time, but they are still struggling to make ends meet."
The speech coincided with the opening of The Foundry, which will provide industrial-grade tools and classes to the public. In addition, Under Armour has scheduled an official opening of the Under Armour Lighthouse: Manufacturing & Design Leadership Center for later this month.
And while Maryland has never been a bastion of manufacturing, with the state's 106,000 industry workers representing less than 1 percent of the 12 million workers nationwide according to the Bureau of Labor Statistics, it's still an important point for northern Anne Arundel County.
When the Sparrows Point steel mill, right across the river from northern Anne Arundel County, closed in 2012, 2,000 jobs were lost.
Officials and legislators in north county have signaled that Port Covington will be a key employer of local residents. In addition, many of the county's state legislators supported bills this past General Assembly session that looked to lure manufacturers to the state through tax breaks.
Hoyer's plan, which was light on specific funding or legislative methods, focused on advocacy for more education and workforce training, tax incentives for entrepreneurs and assistance for start-up companies.
"We need to help manufacturers during the scale-up phase so that it makes financial sense to make their products here," Hoyer said. "We're starting to do more of that, by creating manufacturing networks that support start-ups as they grow, rather than all-but forcing them offshore."
Gene Burner, president of the Manufacturers' Alliance of Maryland, said workforce development is one his major concerns as to the overall health of the industry.
"One of the things over time that has lapsed over time with Maryland (is) … providing training assistance from the state," Burner said.
Burner, who serves as a lobbyist on behalf of industry leaders in the state, pointed to a now defunct Partnership for Workforce Quality Program.
Established in 1989, the program provided reimbursable grants to match the investments of Maryland's manufacturing technology companies in employee training.
"They could actually set up training seminars … that kind of faded away over time," Burner said.
An initiative to reinstate these types of matching grants could be taken up at either the state or federal level. Before the Sparrows Point steel mill closed down, Burner said he'd worked to secure federal funding to help train workers for the site.
"I think there's going to be a call to reinstate something like that," he added.
Hoyer's plan also comes only a few weeks after Maryland received a "D" for its overall manufacturing climate from Ball State University's Center for Business and Economic Research annual report.
The center's director Michael Hicks pointed to both the need for better education and training as a way to address the industry's needs.
And Hoyer made that a key point in his speech, saying the government should invest more in the educational fields of science, technology, engineering, the arts, and mathematics.
"Promoting partnerships between employers and educational institutions, including through apprenticeships, will bring us closer to building a workforce that can compete for every twenty-first century job," Hoyer said.
While Hoyer asked for more investment on infrastructure in better roads and highways, the representative did not say how much more should be spent nor how it would be funded.
In addition, he said Congress should use "the tax code to incentivize entrepreneurship" and to reduce "regulatory burdens where we can, in order to give start-up businesses a stronger change at success."
Burner said Maryland's Department of Commerce is organizing a group of industry leaders to discuss state specific issues as to manufacturing in the coming weeks.