On Tuesday, May 20, Chad Henige, Edward Tilley, and Gregory Cleaver from General Motors Baltimore Operations visited Red Pump Elementary School in Bel Air, MD to talk to students about manufacturing electric motors and supply chain logistics. They discussed how the principles of magnetism apply to electric motors, how the motors are built, and the logistics involved in shipping the electric drive units to Korea.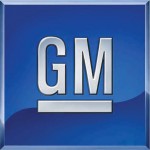 This was the third annual event the plant has supported since the school opened in 2011.  In past visits, speakers have discussed gear sets, fabricating parts, and operations management with schematics and hands on activities.
Employees from the plant regularly work with other schools, including Chapel Hill Elementary and Berkshire Elementary to host environmental activities or judge science fairs. In addition, the plant gives tours to many university-level classes learning about various aspects of the manufacturing business, from engineering to supply chain to operations.
General Motors Baltimore Operations is a member of RMI's Energy Efficiency Program, which includes the self-directed green teams. For more information on joining the Energy Efficiency Program, click here.
For more information on General Motors Baltimore Operations' community outreach and more, contact John Falzon at john.falzon@gm.com.