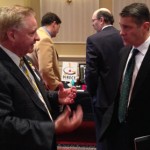 3D Maryland, Direct Dimensions and RMI teamed up to bring The New Image of Manufacturing 2.0 event to legislators and their staff in the Miller Senate Office Building on Thursday, January 30, 2014.
More than 70 people visited the event, which showcased 12 Maryland companies and organizations using 3D printing and rapid technologies to make their businesses globally competitive. Companies and organizations represented include: Key Tech, Northrop Grumman, Under Armour, Repliform, Prime Manufacturing, UAV Solutions, Nemetschek Vectorwoks, Johns Hopkins Medicine, Direct Dimensions, Survice Engineering, Danko Arlington and www.3DMaryland.org.
Jan Baum is the director of 3D Maryland and a member of the RMI Board of Directors. 3D Maryland is a state-wide leadership initiative of the Howard County Economic Development Authority through the Maryland Center for Entrepreneurship in cooperation with RMI. Its goal is to increase awareness, engagement and implementation of 3D printing, additive manufacturing, and rapid technologies as an innovative economic driver.
The mission is to strengthen Maryland's economy by increasing engagement with 3D printing and additive manufacturing among business, industry, and entrepreneurs, building on regional strengths, growing a local advanced manufacturing ecosystem, transforming products and processes, and creating new start-ups.