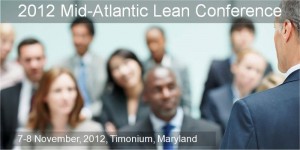 Jeff Fuchs and the MWCC are winners with this exceptional event and outcomes. Great program, speakers, exhibits and attendance. – Mike Galiazzo
Lean is the most significant way for private and public organizations to get better results. Lean grew out of the manufacturing sector, but today it is applied in other sectors like education, government and health.
The Maryland World Class Consortia is hosting the Mid-Atlantic Lean Conference November 7 and 8 in Baltimore County, with thirty-two concurrent presentations by lean experts and practitioners who will share lean success stories, lessons learned, and tools every organization can use right now to improve performance. This is a high-value program offered at a great price. RMI is a sponsor, and this knowledge-packed event is exactly what can help make your organization much more effective.
Spearkers include the following internationally recognized experts:
Kevin Duggan
Founder, Institute for Operational Excellence and Duggan Associates; Author, including

Design for Operational Excellence

and

The Office That Grows Your Business
Mike Rother
Author, including

Learning to See

and

Toyota Kata – Managing People for Improvement, Adaptiveness, and Superior Results
Robert Miller
Executive Director, The Shingo Prize for Operational Excellence
Harry Moser
Founder, The Reshoring Initiative; Past President, GF AgieCharmilles
Bruce Hamilton
President, Greater Boston Manufacturing Partnership; Past President, United Electric Controls Company and Shingo Prize Award Winner
For more info and registration… click here.