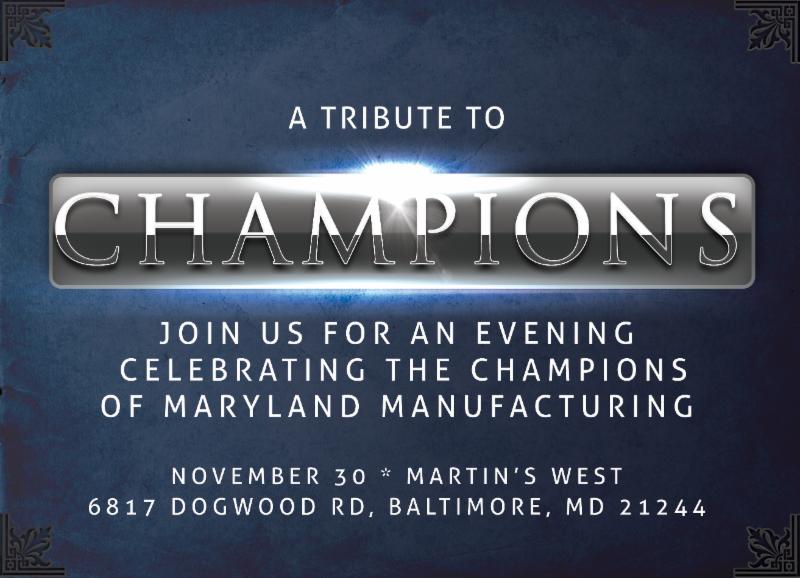 Join RMI at a special evening dinner celebration on November 30 where we will, in partnership with the Maryland MEP,  pay tribute to Maryland's private and public sector champions of manufacturing. This event is part of RMI's ongoing effort to educate key policy makers about the image of our industry: who we are, what we do and why we are vital for Maryland's future economic growth.
2016 Champions of Maryland Manufacturing nominated by people from across the state. Champions come from every county and Baltimore city.
See the list of the 2016 Champions of Maryland Manufacturing
Maryland champions of manufacturing will be recognized for creating a positive image of manufacturing by achieving meaningful results in one of the following areas:
* Accelerating product or process innovation
* Increasing growth through visionary leadership
* Contributing to their to communities
* Creating products that improve our lives
* Creating a positive culture of change management
* Attracting and engaging STEM students to manufacturing
* Employing an inclusive workforce 
Tickets are $150 for RMI members, $175 for non-members.
Table sponsorships:
If you wish to purchase a table of 8 (no tables of 10) please call Peter Gourlay 443-275-2489 or Mike Galiazzo 410-771-8111.  For more information, see Sponsorship & Reserved Tables.