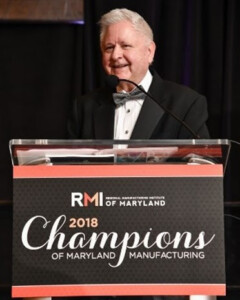 Take a minute and think about a positive story involving manufacturing. A success story. A tale about uniqueness – a person, a product, or an innovation. A story of value to our community, that enhances our image and attracts
Everyone has a story to tell, and I want to tell your story because you and your story matter! Good deeds, innovations, achievements and successes in the manufacturing eco-system deserve to be recognized. It's good for you and great for our industry!
Since 2016, RMI has promoted stories about "Champions" of Maryland manufacturing, and we are once again doing so in 2022. Champions are individuals, companies, organizations, academic institutions and government entities whose noteworthy efforts serve as examples and inspiration to others. By sharing stories from these Maryland manufacturing stakeholders, we highlight the economic and social impact manufacturing has on people, families, businesses and communities. In other words, we foster a positive image of manufacturing!
In 2020, over 140 Champions were featured on RMI's website in the 
Champions of Maryland Directory.
 Local press reported on Champions. Stories lit up social media. Countless RMI sponsors, economic development leaders and partner organizations wrote about Champions. And thousands viewed the Champions Directory.
I encourage you to visit the RMI website to read about the Champions program and current Champion stories at 
www.rmiofmaryland.com
. And you can submit your story (350 words or less) via
 this simple online form.
 Of course, I am also happy to help you identify your own efforts that would represent a great Champion story to be shared. Feel free to email me at 
drmikeg@comcast.net
or call me at 410-771-8111.
We will honor the 2022 Champions of Maryland manufacturing at our 
Maryland Manufacturing Celebration
on November 17th at Martin's West. We anticipate over 600 attendees for what will be a fun, exciting and memorable night with friends. In fact, already, almost 400 individuals will be joining us. I hope you will too!
Sincerely,
Mike Galiazzo
RMI President