RMI Year in Review. Expanded leadership roles, events, activities and benefits for manufacturing
        RMI BREAKING NEWS:
NEWS- RMI in line for 5 million in funds to support energy efficiency– RMI is included in an O'Malley Administration proposal to the Public Service Commission to receive funds in the amount of 5 million to implement an energy efficiency program for manufacturers in the BGE service area. The program is two tiered with a focus on working directly with companies based on RMI's self directed green team approach, and a digital platform to promote energy efficiency and provide quick response to questions from manufacturers.
NEWS- RMI partners on 1 million NIST Manufacturing Extension Partnership Proposal. Maryland based National Growth through Innovation Foundation led by Brian Sweeney has submitted a proposal to NIST to become the new Maryland Manufacturing Extension Partnership. RMI is supporting this plan that included roles for RMI the Maryland World Class Consortia , Maryland Community Colleges and College and Universities, DBED , State Workforce Development systems and others  seeking to create a strong and successful MEP in Maryland.
The year in review RMI major achievements from August 2011 to August 2012…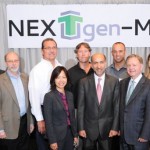 RMI/Baltimore County complete successful year long Self Directed Green Team Energy Efficiency program under a $250 million grant from the U.S. Department of Energy. Under the leadership and management of RMI, Six Companies: GM. Lion Brothers, Green Bay Packaging, Kirk Habicht, Acadia Windows and Doors implemented changes resulting in getting results leading to lower costs and increased efficiencies.
[youtube_sc url="xYDdqfGgwUQ"]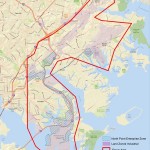 RMI/Mike Galiazzo is a member the Sparrows Point Partnership, appointed by the Baltimore County Executive, to advise the County on the highest and best uses for industrially zoned properties on the Sparrows Point peninsula. The Partnership Chair is  Baltimore County Director of Economic Development, Dan Gundersen. (BBJ article with Galiazzo)  Members include: David Bavar, Bavar Properties; M. Kathleen Broadwater, Deputy Executive Director, Maryland Port Administration; John Bulman, Sparrows Point Shipyard Industrial Complex; J. David Conrad, Corporate Director-Business Development, RG Steel; Michael Derby, General Manager, North Atlantic Operations, Wallenius Wilhelmsen; Donald Fry, President, Greater Baltimore Committee, Maryland Port Commissioner; Mike Galiazzo, President, Regional Manufacturing Institute; Chair: Dan Gundersen, Executive Director, Baltimore County Department of Economic Development; Harry Halpert, President, MTC Logistics; Michelle Lipkowitz, Partner, Saul Ewing LLP; Joanna McGowan, President, W.M. Transport (White Marsh Transport); John MacSherry, Former Senior Vice President, Duke Realty Corporation; Aris Melissaratos, Senior Advisor to the President-Enterprise Development, The Johns Hopkins University; Mark Montgomery, President, Ports America Chesapeake; Tom Obrecht, Chairman, Blue & Obrecht Realty; James Van Derzee, Manager, Regional Development, CSX; Ted Venetoulis, Maryland Port Commissioner.
Drew Greenblatt participant in Aspen Institute Manufacturing Talks – RMI Board Chair Drew Greenblatt was one of a select group of national leaders of manufacturing who attended the Aspen Institute's seminar on Policy Priorities for Manufacturing and Society in the 21st.
Mike Galiazzo and RMI Board member Jan Baum spoke with with Frederick County manufacturers on additive manufacturing, hosted by Frederick County Chamber of Commerce, Frederick Manufacturing Roundtable.
RMI is a member of the Governor's P-20 Partnership for Assessment of Readiness for College and Careers (PARCC) Career Readiness Workgroup . There is a new national standard for college and career readiness being developed. RMI is involved in working with Maryland educational and workforce leaders to ensure manufacturing interests are known. RMI Board member and MSDE Assistant Superintendent for Career & College Readiness, Kathy Oliver, and Governor's Workforce Investment Board Director Lynn Reed are leading this effort.
RMI's 2011 Rally for Maryland Manufacturing – Over 600 people cheered for Maryland manufacturing at the Rams Head Live Baltimore with Paul Reed Smith and his band and a host of top level elected officials and business. Speakers included Paul Reed Smith, Aris Melissaratos, Drew Greenblatt, Helen Bentley, Suzy Ganz, Congressmen Hoyer and Sarbanes, Governor O'Malley, Mayor Rawlings-Blake, Howard County Executive Ken Ulman, Senators Klausmeier and Kittleman, Delegate Washington, and Mike Galiazzo.
[youtube_sc url="m6uIQeiAXKY"]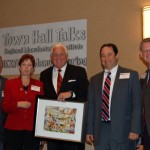 Fall 2011 Town Hall Meeting:  Why Manufacturing is Essential to Maryland's Economy discussion and exhibits on next generation manufacturing and technology.-150 attendees Baltimore County Executive Kevin Kamenetz, Senate President Mike Miller, Maryland Comptroller Peter Franchot, Senator's Kathy Klausmeier and Alan Kittleman, Tom Sadowski, Economic Alliance of Greater Baltimore, Rob Rosenbaum, TEDCO, Dick Story, Maryland Economic Development Association, Drew Greenblatt, Marlin Steel, Suzy Ganz, Lion Brothers and other business leaders. 150 attendees.
[youtube_sc url="yRH1N6LQQXs"]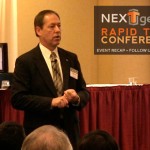 Spring 2012 NextGen M Rapid Tech Conference and technology showcase:  A powerful introduction to the Baltimore area of rapid technologies. 280 attendees a Dave Burns, The Ex One company, Jason Berns, Under Armour, John Danko, Danko Arlington, Jeff Hossfeld, Whiting Turner, Douglas Kendzierski, CCBC Fab Lab, Jan Baum, Towson University Object Lab,  Aris Melissaratos, Johns Hopkins University, Suzy Ganz, Lion Brothers, Scott Wohler, NeWo Technologies, Michael Raphael, Direct Dimensions, Inc., Vince Rossi, Smithsonian Institution, Adam Metallo, Smithsonian Institution, Stephen Rouse, Walter Reed, Mark Schlein, U.S. Army, APG, Edgewood Hospital, Bryan Sivak, State of Maryland Michael Weinberg, Public Knowledge,  Brian Le Gette,  ZeroChroma, Jenny Regan, Key Tech.
[youtube_sc url="XhzojpDFhgE"]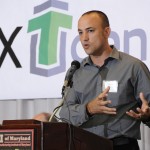 Spring 2012 NextGen M Energy Forum with the Maryland Energy Administration (MED):  Over 190 people attended this conference to learn from six Baltimore County manufacturers about how they reduced costs under the RMI Green Team project. Speakers included Dr. Leo Christodoulou, U.S. Department of Energy's Advanced Manufacturing Office, Kevin Kamenetz, Baltimore County Executive, Malcolm Woolf, Maryland Energy Administration (recently resigned), Bill Tiger, GM, Susan Ganz, lion Brothers, Tyson Aschliman, Green Bay Packaging, Jerry Solomon, MarquipWardUnited, Neill Christopher, Acadia Windows and Doors, and Mark Habicht, Kirk-Habicht.
[youtube_sc url="LLiIISVHz5o"]
Offered workshops on Goldratt Theory of Constraints to improve manufacturing operations. RMI in partnership with Goldratt Consulting offered two four day workshops
October 2011 – 18 attendees

March 2012 – 19 attendees
Inside Series in cooperation with the World Trade Center Institute. RMI and the World Trade Center Institute are partners in the Inside Series, taking people into companies to hear from senior management about next generation manufacturing solutions.
·       October 2011   Inside Chesapeake Bay Candle Company 42 attendees

·       June 2012  Inside DAP Corporation – 36 attendees

·       April 2012  Inside Green Bay Packaging – 30 attendees
RMI is a member Baltimore County STEM Alliance with Baltimore County Public Schools and the Community College of Baltimore County. RMI is planning a "STEM in Manufacturing" forum to identify examples why Science technology, Engineering and match skills are needed by next generation manufacturing workers.
RMI Presentation on Manufacturing at Maryland Economic Development Association Conferences (MEDA) RMI represents the story of Maryland manufacturing at MEDA events. MEDA is a major economic development association representing all Maryland counties and the state economic development leaders. Mike Galiazzo gave an ignite presentation at the MEDA Spring conference and hosted a panel on manufacturing workforce issues in June 2012.
RMI is a member Congressman Hoyer's Make it in America Advisory Council. Mike Galiazzo, representing RMI is a member of Congressman Steny Hoyer's Make it in America advisory council, participating is discussion with the Congressman on key issue impacting manufacturing.
Governor's Manufacturing Commission: RMI Board members Drew Greenblatt, Fred Swanner, Kathy Klausmeier & Mike Galiazzo appointed by Governor to serve on the Maryland Advisory Commission on Manufacturing Competitiveness. RMI Board Vice Chair, Susan Ganz Serves on DBED's Economic Development Commission.  Members include: Jeff B. Fuchs, MACMC Chair and Director, Maryland World Class Consortia • Jose Boluda, Director of Legislative Affairs, Northrup Grumman • Barbara Buchanan, Regional Operations Vice President, Frito Lay • Elsie Dare, Plant Manager, Crown Cork and Seal • Mike Galiazzo, Ph.D., Executive Director, Regional Manufacturing Institute • Drew Greenblatt, President, Marlin Steel Wire • Jason L. Groves, Executive Vice President & General Counsel, Medifast • John Higginbotham, President, PRS Guitars • Richard M. "Mike" Hutson, Manager of Business Development, Triton Metals, Inc. • Greg Liposky, Vice President & General Manager, MedImmune Frederick Plant • Kathy Menasche, Senior Director of Workforce and Business Development, Carroll County Community College • Daniel L. Pheil, President, Cinetic Landis Corporation • James Radin, Vice President of Global Supply Chain, McCormick • Jerry Solomon, Vice President of Operations, Marquip-Ward United • Jim Strong, Sub-District Director, United Steel Workers • Frederick V. Swanner, President, UAW Local 239, GM Transmissions
Ex officio members include: • Christian S. Johansson, Secretary of Business & Economic Development • Robert M. Summers, Ph.D., Secretary of the Environment • Scott R. Jensen, Interim Secretary of Labor, Licensing, & Regulation • Lillian M. Lowery, Ed.D., State Superintendent of Schools • Danette Gerald Howard, Ph.D., Secretary of Higher Education Senators  Katherine A. Klausmeier and David R. Brinkleyand Delegate John Olszewski
Meeting with U.S Department of Labor Leaders: RMI coordinated a meeting with manufacturers and U.S. Department of Labor, Assistant Secretary Jane Oates at Chesapeake Bay Candle to discuss workforce issues.
Mike Galiazzo is a member of Howard Community College Commission on the Future, first meeting September 20.
Scott Jensen, Acting DLLR Secretary met with Mike Galiazzo to discuss new strategies for assisting Maryland manufacturers. Jensen and Galiazzo met in August to discuss more responsive approaches to manufacturing workforce needs. Topics included the need to survey companies that employ machine workers, and the implications of rapid technologies on the future workforce needs. RMI will be inviting Jensen to speak to a larger group in the near future.  Jensen also met separately with RMI Board member Tyson Aschliman, Green Bay Packaging and Scott MacDonald, Maryland Thermoform Corporation. Tyson, Scott and Mike were all mentioned in a BBJ article on manufacturing and workforce this past summer.
Summer 2012 Mike Galiazzo spoke to CCBC Fab Lab summer workshop group. The CCBC/TIME Center Fab Lab was a center for learning about Fab Labs for representatives of educational institutions from around the country. RMI Board member and TIME Center Director Ken Burch, invited Mike to discuss with the group how rapid technologies are being used in industry.
RMI In the News – Over the past year RMI has been included in numerous manufacturing and technology related stories in a variety of print and non-print media to include: The Baltimore Sun, Washington Post, Baltimore Business Journal, Corridor Inc, and the Dundalk Eagle. Reporters call RMI for source information for manufacturing stories. RMI increased exposure on social media, especially responses to news articles that go out across social media.
Meeting with Elected Officials– Representatives of RMI met privately with elected officials to discuss and explain key issues facing manufacturing and solutions. These include Senators Mikulski and Cardin, Congressman Hoyer, Ruppersberger, Sarbanes, Cummings, Governor O'Malley, Maryland Comptroller Franchot, State Senators Miller, Klausmeier, Kittleman, Baltimore County Executive Kamenetz, Mayor Rawlings-Blake, and Howard County Executive Ken Ulman.
Speaking around the State. RMI has expanded speaking engagements to the Eastern Shore, Southern Maryland, DC Area and Western Maryland.  RMI's Mike Galiazzo has spoken at MEDA conferences, Lower Shore Manufacturers. APICS (DC area) Frederick County Manufactures and Southern Maryland manufacturers.
RMI of Maryland Board of Directors

Chairman Drew Greenblatt, Marlin Steel Wire Products

Vice Chairman Susan Ganz, Lion Brothers

Treasurer/Secretary John Raut, GM Baltimore Transmission

President, Mike Galiazzo

Fred Whiton, DRS Defense

Tom Sadowski, Economic Alliance of Greater Baltimore

Kevin Kamenetz, Baltimore County Executive

Jim Burnette, Alliance Engineering

Bill Tiger, GM Baltimore Transmission

Peter Gourlay, Manufacturing Today Magazine

Tyson Aschliman, Green Bay Packaging

Jimmy Stavrakis, Adcor Industries

Mark Habicht, Kirk-Habicht Company

Martha Connolly, University of Maryland Mtech

Ken Burch, TIME Center

Fred Swanner,UAW/GM

Jan Baum, Towson University

Kathy Klausmeier, State Senator Baltimore County

Kay Burch, Northrop Grumman

Sandra Kurtinitis, The Community College of Baltimore County

Allan Kittleman, State Senator, Howard County

Jim Glowacki, AAI Corporation /Trextron

Julie Lenzer Kirk, Maryland Center for Entrepreneurship

Paul Foster, Printing & Graphics Assn. Mid-Atlantic

Daniel Goldberger, Grant Thornton, LLP

Cliff Ishmael, Strategic HR

C.A. Dutch Ruppersberger, Congressman, 2nd District

Keith Scott, Baltimore County Chamber

Dan Gundersen, Baltimore County Economic Development

Todd Sabin, Baltimore Region APICS

Lou Kistner, MD Industrial Technology Alliance

Roland Woodward, Baltimore Museum of Industry

Katharine Oliver, MD. State Department Ed.

Diane Young, Baltimore County Schools