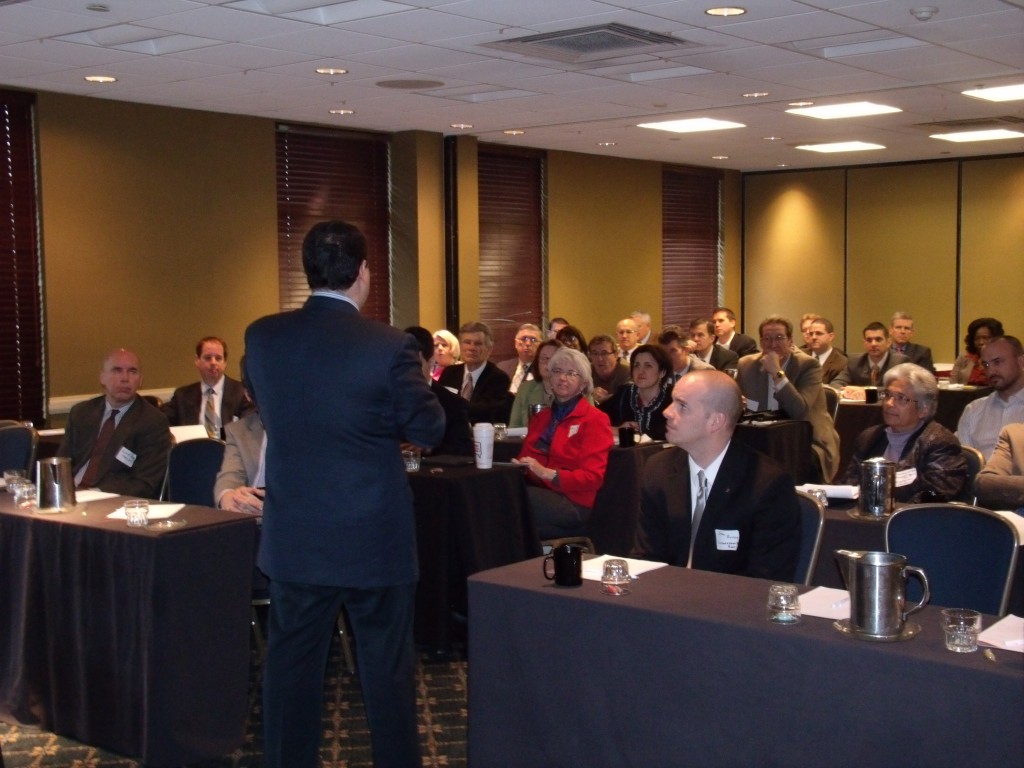 Timonium, Maryland- February 2 – On Tuesday, RMI Chairman Drew Greenblatt, President of Baltimore-based Marlin Steel Wire Products, joined National Manufacturing Association (NAM) Chief Economist Chad Moutray to speak at an RMI breakfast event on the topic of "America's Economic Recovery and What it Means for Manufacturing" at the Timonium Crown Plaza Hotel. More than 60 manufacturers and manufacturing stakeholders attended the event.
Greenblatt emphasized why he is bullish on American manufacturing. He cited several reasons why American manufacturing is having a renaissance, including the "re-shoring" of American manufacturing. He also pointed out that China is losing its luster as a top investment location for America's manufacturers, citing labor costs skyrocketing by 20 percent annually and the continued inattention to the rule of law.
"U.S. manufacturers are weighing the options, and many are realizing it is become a more profitable option to either re-shore or to not move their operations overseas at all," he said.
Additionally, Greenblatt emphasized some key reasons why American's manufacturing is on the cusp of a renaissance, including American's cheaper energy reserves, the impact of skyrocketing freight costs and the need to service clients requiring speed-to-market.
"Manufacturing jobs are great jobs," he said. "They pay $77,000 per year and include benefits. We need those jobs to broaden our U.S. middle class and end the recession."
NAM's Moutray painted a mixed picture for 2013, citing the headwinds from Washington's inability to address the country's deficit problems and other headwinds from Europe; he highlighted the strengths in the economy as positives for manufacturing including a housing recovery, modest consumer consumption and increased exports. While only four out of 10 of America's top exporting markets had a positive growth trends last October, he said today "eight out of 10 markets are growing," and that's good for our economy. Further, he said the U.S. had 5.5 percent increase in exports last year and predicts that we should do much better in 2013.
"Clearly there are signs that manufacturing, with good paying jobs with benefits, is making a comeback," said Mike Galiazzo, President of RMI. "Manufacturing innovation, technology and re-shoring are rebuilding our middle class today."