Nimble Maryland Manufacturer Sees Tide Turning
For more than 100 years, Murray Corporation has turned out clamps used by the automotive, agricultural, plumbing, irrigation, beverage and marine industries.  Murray sells both domestically and around the world and calls big Original Equipment Manufacturers (OEMs) like Volvo and Watts as clients.
During the company's heyday from 1960-1980s Murray, headquartered at the 122,000 square foot Hunt Valley, Maryland facility, operated three shifts while employing more than 200 people to churn out a variety of hose clamps for those industries.
During that period, business was booming and Murray was the premier supplier of clamps globally.  Its clamps were a vital component for holding together large objects like cars, boats, combines, tractors and other heavy equipment. These clamps allow machines to be assembled as well as disassembled and repaired.
But the overall decline in U.S. manufacturing since that time hit Murray hard during the 2000s.
With the advent of China's off-shoring machine, companies like Murray found themselves vulnerable.  When the big box stores came on the scene, at first it was a bonanza for Murray, but eventually China-made lower priced products became the dominant supplier to those outlets. Murray was forced to move its more commodity-like products off-shore in order to compete. The company's many small clamps and widgets were viewed by OEMs and big box retailers as commodities and as a result they ended up purchasing the cheaper China-made products.
During that time, Murray's workforce shrank from 150 employees down to 30.
With the future looking bleak, Murray did what most American manufacturing companies had to do survive.  They innovated. Meanwhile, as retailers demanded the lower priced China-made products, incidents regarding safety and performance issues began to crop up.
As claims and failures continue to rise, the high cost associated with repairs and settlement of those claims can actually make  what seemed to be cheaper products, more expensive in the long run.   "We live in an ever-litigious society today and OEMs are increasingly more conscious about standards and quality," said Tom Branch, Operations and Purchasing Manager, Murray Corporation.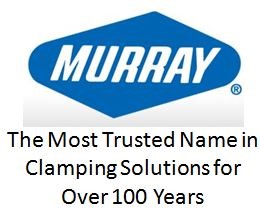 "These types of failures, convinced OEMs and retailers to give more weight to purchasing based on safety and reliability, "When you start putting in cheaper clamps that don't have the reliability they claim to have, customers increasingly have to deal with insurance claims from failings," said Branch.
While Murray admits it doesn't have the cheapest products, it claims to have the highest, most rigorous standards.   Murray was also positively affected by wage increases in China.  "It's starting to become more difficult for them to beat us on price for similar types of quality products," said Branch.  Meanwhile, quality concerns remain with China as recently evidenced by the public's reaction to the Lumber Liquidator's expose on "60 Minutes."
"Where just a few years ago, we didn't even get an invitation to bid from the big box stores, today we are being asked to bid on those same offerings," he said.  "Companies value our long tradition of great dependability and quality."
New Ideas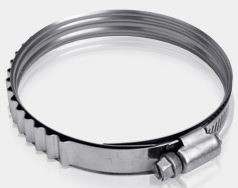 Murray took a current market product called the Worm Drive Constant Tension Clamp, which has been in existence for years and improved it.  The clamps are used by the automotive industry on engine hose so that it can expand as the engine heats up and hoses expand.   "The clamp has been around for a long time, but with our unique Electro-polishing, it's much more corrosion resistant," said Branch.  Murray's unique "dual bead seal" concentrates band-sealing pressure, increasing performance up to 30% compared to standard smooth liners.  OEMs are taking notice.  "We got our opening with Volvo Trucks made in Israel and now other auto and truck companies like Kenworth are looking at the revamped clamp," said Branch.

Other unique applications include Murray's strategic alliance with Atlantis Industries which manufactures custom plastic injection molded products.  Now Murray is working jointly to produce plastic parts for the vehicle industry and numerous other markets.
Murray continues to innovate and see where its unique clamping technology can improve lives.  They've partnered with Mercer College in Vietnam to help provide a Murray worm drive clamp for local Vietnamese rehabilitation facilities as they use them to affix prosthetics legs to Vietnamese who are injured from unexploded ordinance from the Vietnam War.  "The rehab centers produce close to 2500 prosthetic legs a year and can't keep up with demand," he said.  It's personal for Branch, since his own father lost both legs due to vascular disease.
"Having served in Vietnam, it really means a lot to me to help people in such a personal way," said Branch.
While Murray continues to innovate its product line, it also looks internally at their labor and production process, steel purchasing and energy; all big cost areas.  On the energy front, it recently joined the Regional Manufacturing Institute's (RMI) Energy Program to find out what areas could be addressed to save on energy costs.
RMI provides a complimentary energy audit and helps firms prioritize quick payback opportunities.  "We don't have the time to look at this and having RMI's engineering team do this for us is a no-brainer," he said.  "There's no-out-of- pocket costs for RMI to present the opportunities to me and they'll map it all out so that I understand the payback and they'll also help me fill out the utility rebates.  What's not to like," he said.
Another area that Murray pursued to help control costs was in its steel purchasing.  Stainless steel is a key commodity for Murray's ability to compete in a price competitive environment.  "The price of nickel has a huge impact on our ability to produce affordable products," said Branch.  Murray buys larger amounts of steel when the price of nickel comes down and that alone can make the difference in Murray's ability to be price competitive.  We've brought down the cost of our clamps by 20% through this strategy alone, he said.  While in the past Murray would always look to keep steel inventories very low, they reversed that strategy to buy full coils of steel at the right time to save money.
Today, the company only has 28 employees at the Hunt Valley plant, but Branch remains optimistic about the future.  "We're much leaner.  Our 100-year reputation speaks for itself.  We've gone through this boom-to-bust time and we've come out the other end much stronger," he said.  "Today, Murray is ready and poised for the next step in our future."