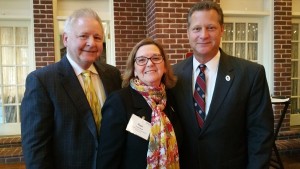 On January 14, RMI President Mike Galiazzo attended the Maryland Economic Development Association's conference entitled "2016 Legislative Outlook for Economic Development." During the conference, public and private sector leaders shared their thoughts on economic development-related legislation that will be considered by the Maryland General Assembly during the 2016 session.
The highlight of the day was key note speaker Lt. Governor Boyd K. Rutherford's address outlining Governor Lawrence J. Hogan's proposal to entice manufacturing jobs to the State.
"The goal is to reduce the financial burden on businesses and foster a pro-business climate. We are supporting Marylanders by reducing taxes for manufacturers that settle in high unemployment areas," Lt. Governor Rutherford said. "We have brought more than 50,000 jobs to Maryland, creating a sense of optimism in business community. We are going on the offense in 2016 – to retain, grow and attract."
Rutherford gave a shout out to Mike Galiazzo and RMI during his remarks. Mike responded with a "thumbs-up." Senate President Thomas V. Mike Miller, Jr. also gave Galiazzo a shout out on behalf of manufacturing.
House Republican Leader Delegate Nicholaus R. Kipke spoke passionately on the need to focus on Maryland manufacturing. Delegate Kipke has a keen understanding of the importance of manufacturing.
When Senate Minority Leader J.B. Jennings spoke, he focused on the health of the State's economy. Jennings a strong supporter of manufacturing, met earlier with Mike Galiazzo on Governor Hogan's new initiative to promote manufacturing.
"We need to push the access of capital resources to the business owners so they may expand and grow," said Senator Jennings. "Making sure all aspects of Maryland's economy is supported – manufacturing needs to be healthier."
The conference opened with comments from Anne Arundel County Executive Steven R. Schuh, and Anne Arundel County, Mayor Michael John Pantelides, City of Annapolis.
This was a great event. Pam Ruff, MEDA Executive Director, deserves credit for bringing together the best thinkers of economic development. She too is an advocate for expanding manufacturing in Maryland.
(Photo L-R) Mike Galiazzo, President of RMI of Maryland, Pam Ruff, Executive Director of Maryland Economic Development Association, and Steven R. Schuh, County Executive of Anne Arundel County