By Brian Sweeney, MEP Executive Director
Maryland has a wonderful opportunity to grow its economy through the newly awarded NIST Hollings Manufacturing Extension Partnership Center for the State of Maryland. MDMEP is an independent 501(c)3 non-profit organization funded under the NIST Program to provide consulting services to Maryland manufacturers to strengthen and grow Maryland's manufacturing economy.
GO TO www.mdmep.org to learn more about Maryland MEP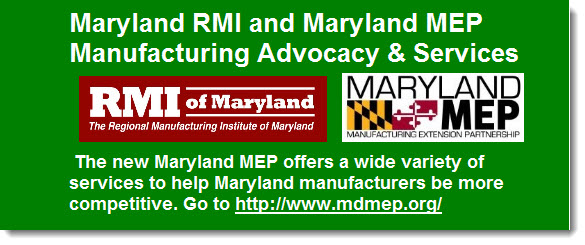 Manufacturers that engage the MDMEP will be in a better position to increase their global competitiveness. As Maryland's manufacturing companies become more efficient to compete as Next Generation manufacturing companies, Maryland's economy will benefit as well. Our expert staff has worked across the United States in helping manufacturing firms become more competitive by providing expert insights and guidance and we are excited to bring similar results to Maryland.
Through this NIST award, we are now delivering these services to Maryland manufacturers to improve their competitiveness in the following areas: Innovation, Strategy and Leadership, Sales and Marketing, Product and Market Development, Continuous Improvement, Environmental and Quality Systems, Financial and Business Operations, Supply Chain Solutions, and Human Capital Improvement. MDMEP's services are targeted specifically to meeting the needs of small and medium sized-manufacturers, where we see the greatest opportunity for growth and expansion.
We have engaged the Regional Manufacturing Institute (RMI) of Maryland as a key partner in our outreach effort and for our delivery services to manufacturers. We recognize that RMI's president, Mike Galiazzo, has been instrumental in aligning the interest of Maryland manufacturers, and we are excited to have RMI support the efforts to bring MEP services to manufacturers across the State. RMI's network of partners and services providers is further strengthened by the addition of the
With MDMEP's services and capabilities, this collaboration brings unprecedented support to Maryland manufacturing businesses by having access to the robust service offerings of MDMEP and the public awareness and local experience that RMI brings to the Maryland manufacturing industry.
MDMEP's staff is actively engaging with private and public businesses and government throughout the State to foster change in Maryland manufacturing. Through RMI, MDMEP is partnering with all of the other key Maryland manufacturing stakeholder groups including the Maryland World Class Consortium (MWCC), Maryland Department of Business and Economic Development (DBED), the Maryland Technology Development Corporation (TEDCO) among others.
Brian Sweeney is the Executive Director of the MD MEP, located in Columbia, MD. MDMEP's website is www.mdmep.org and Brian and his staff can be reached by phone at (410) 505-8936, or by e-mail at go@mdmep.org.