SEE A MAP OF ATTENDEES AND CONSTELLATION OF RAPID TECH LEADERS + LEARNERS
Agenda + Speakers List Below
NEXTgen-M is a Baltimore first.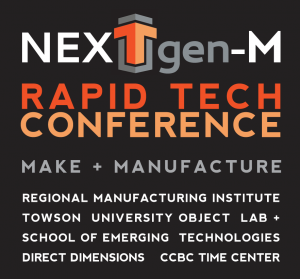 If you are interested in rapid technologies and smart manufacturing, this event is for you. We are bringing together manufacturers, entrepreneurs, educators, techies and all who see a future for rapid tech in the Baltimore region.
You will learn how rapid tech is being applied in industries including manufacturing, forensic, medical, and military. Technologies include 3D imaging, modeling, 3D printing (additive manufacturing), laser cutting and CNC milling (subtractive manufacturing).
The program includes national and local speakers, exhibitors, and engaging conversations to develop a plan to "Make our Future" by creating a constellation of rapid tech leaders and learners (a series of monthly conversations will be scheduled) and a rapid tech plan for the Greater Baltimore region, developed by October 2012.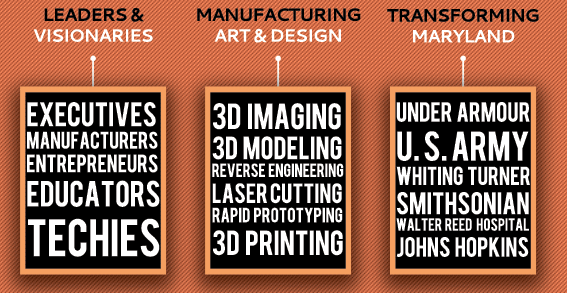 AGENDA
7:00 a.m. – 8:30 a.m.                Coffee, Showcase Exhibits
8:45 a.m. – 8:55 a.m.                Welcoming remarks by Mike Galiazzo, President of RMI
8:55 a.m. – 9:00 a.m.                Welcoming remarks by Drew Greenblatt, RMI Board Chair, Executive Board Member of the National Association of Manufacturers, and President of Marlin Steel Wire
9:00 a.m. – 9:45 a.m.                Keynote address by Dave Burns, President and COO of ExOne
9:45 a.m. – 11:00 a.m.              Panel: "How Rapid Technologies are Changing our World and Work"
Education – Jan Baum, Towson University ( moderator)
Military – Mark Schlein, U.S Army, Product Development Facility
Medical – Dr. Stephen Rouse, Walter Reed Army Medical Hospital
Museum – Vince Rossi, The Smithsonian
Construction – Jeff Hossfeld, Whiting-Turner
11:00 a.m. – 11:15 a.m.            Coffee Break
11:15 a.m. – 12:00 p.m.            Panel: "Constellation of Advocates – Emerging Trends and Rapid Technologies in the Baltimore Region"
Michael Raphael, Direct Dimensions (moderator)
Douglas Kendzierski, CCBC
Jenny Regan, Key Technologies
Scott Wohhler, NeWo Technologies
John Danko, Danko Arlington
12:00 p.m. – 1:15 p.m.             Showcase Exhibits + Lunch
1:15 p.m. – 2:15 p.m.               Panel: "Rapid Technologies and Our Future"
Michael Galiazzo, RMI (moderator)
Aris Melissaratos, The Johns Hopkins University
Michael Weinberg, Public Knowledge
Jason Berns, Director of Innovation, Under Armour
Comments by Bryan Sivak, Chief Innovation Officer, State of Maryland
2:30 p.m. – 3:30 p.m.              Discussion: "Community Conversation:"Where do we go from here?"
Led by Mike Galiazzo with Jan Baum & Mike Raphael
Industry –Suzy Ganz, Lion Brothers
NGO –Tom Sadowski, Economic Alliance of Greater Baltimore
Government – Dan Gundersen, Baltimore County Economic Development
Entrepreneurs – Jason Hardebeck, Mike Brenner, Scott Burkholder, Tom Loveland 
3:30 p.m. – 5:00 p.m.               Showcase Exhibits, Cash Bar
Sponsors:
Economic Alliance of Greater Baltimore
Baltimore County Economic Development
Supporting Partners: Greater Baltimore Tech Council (gb.tc)  |  Maryland Economic Development Association (MEDA)  |  Maryland Technology Development Corporation (TEDCO)  |  Corridor Inc.  |  The Spiro Group
---
Baltimore's First Annual NextGen-M
Rapid Tech for Make + Manufacture
Friday, April 27, 2012  (7:00 am – 4:00 pm)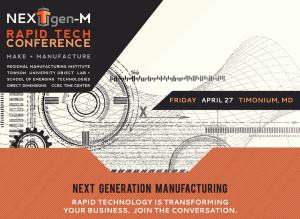 Crowne Plaza Hotel, Timonium
$55 per person – includes light breakfast & lunch
$250 per exhibit table (6-foot) – includes light breakfast & lunch (for 2)
Exhibit info: call Mike Galiazzo 410-771-8111

Limited sponsorships available
Call Mike Galiazzo RMI  410-771-8111
---
PRESENTERS
Dave Burns | President and COO of Ex One; nationally recognized additive manufacturing expert.
David Burns is President and Chief Operating Officer for The Ex One Company, LLC, where he is responsible for worldwide operations. Mr. Burns received his Bachelor of Arts in Economics from St. John Fisher College and his M.B.A. from The Simon School at the University of Rochester. He serves as Trustee for the Rochester Institute of Technology, the Strong National Museum of Play, and the Executive Advisory Council for The Simon School. He is a former board member and chairman of The Association for Manufacturing Technology.
Jan Baum | Towson University
Jan Baum is the creator and director of the Object Lab at Towson University, a research-based, state-of the-art rapid technologies and digital fabrication lab engaged in a range of digital technologies for next generation manufacturing that crosses all sectors and industries: 3D imaging, digital modeling, rapid prototyping. The Object Lab was a 2012 finalist for Smart CEO Magazine's Volt Award for Leader in Technology. As a program director and professor, Baum has integrated rapid technologies and digital fabrication into the applied areas of the Art & Design programs, from the foundations level to the graduate level. Ms. Baum is passionate about emerging technologies, innovation and entrepreneurship, real-world education, and interdisciplinary collaborative work. She is active professionally in an array of cross-disciplinary organizations, and she lectures frequently.
Jason Berns | Under Armour
As Director of Open Innovation at Under Armour, Jason Berns develops new performance technologies by interfacing with outside inventors, universities and industry. Prior to assuming this position, Berns was a senior manager and senior designer at Under Armour, where he creates, manages, conceptualizes, prototypes, and industrializes in order to arrive at the next big thing. With a degree in industrial design from the University of Cincinnati, Berns has lived all over the world and, in addition to Under Armour, has worked for Adidas-Salomon, Salomon, and Fisher-Price.
John Danko | Danko Arlington
John Danko is the third-generation President of Danko Arlington, Inc., a Baltimore Hub Zone-certified jobbing manufacturing company that specializes in military and commercial aluminum and bronze sand castings. Last year, the company invested in a large, state-of-the-art 3D printer that uses fused deposition modeling (FDM) in durable polycarbonate plastic to create casting models, patterns and core boxes, jigs and fixtures, as well as prototypes for outside customers. The incorporation of Rapid Technologies has enabled this well-established, smoke-stack manufacturer to win new contracts, produce more accurately with shorter lead times and less scrap, and to become both an innovator and an unsurpassed leader in the American foundry industry.
Susan Ganz | Lion Brothers
Susan Ganz is CEO of Lion Brothers in Owings Mills, Maryland. Founded in Baltimore in 1899, Lion Brothers Company Inc. is a world leader in the manufacturing and distribution of embroidered and appliquéd emblems. Lion is an example of the transformation of a company based on new and rapid technologies, progressive thinking and leadership. Suzy serves on the Board of Directors of Applica, Inc., as Chairman of the Advisory Board of Towson University's School of Business and Economics, on the Regional Manufacturing Institute (RMI) Board of Directors, and is a member of Young Presidents' Organization and the Committee of 200.
Gino Gemignani | Whiting-Turner
Gino Gemignani is Senior Vice President at the Whiting-Turner Contracting Company, a large, nationwide firm capable of providing numerous construction delivery services. The company has been ranked by Engineering News Record (ENR) as one of the top general building contractors in the country. Gino is a leading voice in education and workforce issues, serving as head of the Governor's Workforce Investment Board. Architecture, construction, and manufacturing are working more closely because of rapid technologies, and Gino will discuss this new emerging trend. (see 3D Printing to Revolutionize Building Industry by Jon Walton)
Drew Greenblatt | Marlin Steel
Drew is President of Baltimore-based Marlin Steel Wire, a small manufacturing company embracing quick engineering design and rapid laser cutting technology. Rapid tech engineering and cutting is his "secret sauce" for global competitiveness, producing products that compete with China because of product design, speed, quality and customer service.
Recognized as a leading spokesman for small business manufacturing, Drew has been featured on CNN, CNBC, NPR, and BBC, as well as in The New York Times, Washington Post, Wall Street Journal, and The Economist; he is also a FOX Small Business All Star. Greenblatt serves as an executive board member of the National Association of Manufacturers and as Chairman of the Board of the Regional Manufacturing Institute.
Doug Kendzierski | Community College of Baltimore County
Doug Kendzierski is a faculty member and Chair of the Applied Technology Department at CCBC. His department includes the Computer-Automated Manufacturing Programs at the college, including the Rapid Machinist non-credit certificate, and credit certificates in CNC Programming, CNC Machinist, Manual Machinist and Quality Assurance Technician. The department is also home to the first MIT Fabrication Laboratory in the Chesapeake region. Doug has 25 years of workforce development experience in higher education, including ten years as Associate Vice-Provost of Continuing and Professional Studies at the University of Maryland Baltimore County (UMBC). In addition, he co-founded the Center for Applied Information Technology at Towson University, and was the founding President/CEO of UMBC's first for-profit company, UMBC Training Centers. Doug earned his Bachelor's and Master's of Science degrees from UMBC.
Brian Le Gette | ZeroChroma, LLC
Brian Le Gette is a multi-industry serial entrepreneur with start-up ventures in consumer apparel (www.180s.com), international medical laboratory accreditation, and organic urban greenhouse farming (www.bigcityfarms.com). His current company, ZeroChroma (www.zerochroma.com) creates cases for smartphones, e-readers and tablet devices. His first company, 180s, was named the ninth fastest growing privately held company in the U.S. (Inc. 500) and the #1 fastest growing privately-held, inner-city company in the country (Inc. 100) under his leadership in 2004. He is the inventor or co-inventor of numerous consumer products, with over 53 patents and patents pending in countries around the world, and has enjoyed a perfect patent defense history having stopped 114/114 infringing parties in 11 countries since 2001. Mr. Le Gette has received numerous awards during his career, including E&Y's Maryland Entrepreneur of the Year for consumer products (and national finalist), World Trade Center Institute's International Business Award: University of Maryland "Outstanding Young Alumnus," and Daily Record Innovator of the Year.
Aris Melissaratos | The Johns Hopkins University
Senior Advisor for Technology Enterprise Development to the President of Johns Hopkins University, Mr. Melissaratos served as Secretary of Business and Economic Development for the State of Maryland from 2003 to 2007. He worked at Westinghouse Electric Corporation for 32 years, retiring as Chief Technology Officer and Vice President for Science and Technology, responsible for research and development. Before that, he was Chief Operations Officer for the company's Defense Electronics Group, responsible for $3.2 billion in sales. He also founded Armel Scientifics, LLC, which has invested in over 30 start-up companies in advanced technology.
Michael Raphael | Direct Dimensions
Michael Raphael founded Direct Dimensions, Inc. (DDI) in 1995 as an engineering company that would provide a "one-stop shop" for 3D technical services, product representation, sales, and support for all types of 3D measurement solutions. Over the past 16 years, DDI has expanded significantly to provide the most comprehensive advanced 3D scanning and imaging technologies, digital modeling capabilities, and dimensional analysis software solutions for the widest range of applications and industries.
Jenny Regan | Key Tech
Jenny Regan, CEO of Key Tech, co-founded the company in 1998 as a development company for high technology products. Today, Key Tech's staff of 25 engineers and designers works with a virtual supply chain of more than three dozen rapid prototyping vendors and production manufacturers to design and build new complex products for medical, industrial and consumer product companies. Key Tech's virtual supply chain and client base are both global, and their products range from wearable diagnostic instruments to automated central lab equipment.
Vincent Rossi & Adam Metallo | The Smithsonian Institution
Vincent Rossi and Adam Metallo are 3D Digitization Coordinators at The Smithsonian Institution. The Smithsonian consists of 19 museums and nine research centers, which hold a total collection of 137 million objects. Only a small fraction of the collection (around 2 percent) is on display at any given time. Applying 3D technology to the these collections has the promise to extend the Smithsonian collection's reach, and support its contributions to science.
Dr. Stephen Rouse | Director, 3D Medical Applications Department at Walter Reed Army Medical Center
Dr. Rouse directs the Walter Reed Army Medical Center's 3D Medical Applications Center. The Center specializes in the application of 3D digital imaging and modeling technologies for the solution of complex military injuries. As a retired military dentist, Dr. Rouse brings a unique perspective to the use of rapid technologies for creating customized implants, prosthesis, and surgical guides, leveraging a variety of 3D imaging and 3D printing technologies. Dr. Rouse frequently lectures at technical conferences with varied audiences from medical to manufacturing professionals, proving his deep passion for spreading the success of rapid 3D technologies. See an overview of Dr. Rouse's accomplishments.
Mark Schlein | P.E. Chief, US Army, Aberdeen Proving Ground Edgewood CBRNE Product Development Facility
Mark Schlein directs the U.S. Army's Chemical, Biological, Radiological, Nuclear, and Explosives (CBRNE) facility, the nation's principal research and development resource for non-medical defense. As a critical national asset in the defense community, CBRNE supports all phases of solution development ― from basic and applied research through technology development, engineering design, equipment evaluation, and product support ― to address its customers' unique requirements. The CBRNE facility is unique in its ability to advance the mission of the war-fighter and other stakeholders by leveraging unique expertise, specialized rapid design and manufacturing equipment, and state-of-the-art facilities. CBRNE helps military and civilian response units and public health officials prepare for and respond to threats from weapons of mass destruction and terrorism. See http://www.ecbc.army.mil for a complete overview.
Bryan Sivak | Chief Innovation Officer of the State of Maryland
Bryan Sivak serves as Maryland's first Innovation Officer. Prior to his current post, he was the Chief Technology Officer of the District of Columbia from 2009 to 2011, where he oversaw initiatives from TrackDC to the city's adoption of Open311, promoted open data and open government, and worked to bridge the digital divide in the city. Prior to joining public service, he founded InQuira, Inc., an international technology firm that was acquired by Oracle.
Michael Weinberg | Public Knowledge
Michael Weinberg is a Senior Staff Attorney at Public Knowledge and an Innovation Evangelist. He received his J.D. from The George Washington University Law School, where he was awarded the ABA-BNA Award for Excellence in the Study of Intellectual Property Law. Prior to GW, he worked in New Delhi and Beijing. Weinberg focuses primarily on copyright, issues before the FCC, and emerging technologies like 3D printing. Public Knowledge is an advocacy organization at the intersection of copyright, telecommunications, and Internet 
law, at a time when these fields are converging. Public Knowledge works to preserve the openness of the Internet and the public's access to knowledge;  it promotes creativity through balanced copyright; and upholds and protects the rights of consumers to use innovative technology lawfully.
Scott Wohler | NeWo Technologies
Scott Wohler served as the Chief Engineer for a technology firm that specializes in wireless technology for all areas of television and film. Scott was responsible for all design and development aspects of the company, but not limited to the product design and development process: concept, prototyping, design, mechanical, assembly, and QC. During said period, Wohler has managed 20 core patentable projects from concept to deployment, many of which are now broadcast industry standards. Scott is a graduate of the Cleveland Institute of Electronics, with a Bachelor's degree in Electrical Engineering as well as the University of Maryland, Baltimore County with a Master's degree in Engineering Management.
Key community conversation leaders, "Where do we go from here?"
Tom Sadowski, Economic Alliance of Greater Baltimore, Dan Gundersen, Baltimore County Economic Development, Jason Hardebeck, gb.tc, Mike Brenner, tech entrepreneur, Scott Burkholder, Create Baltimore and others
and more
If you would like an exhibit table
call Mike Galiazzo 410-771-8111