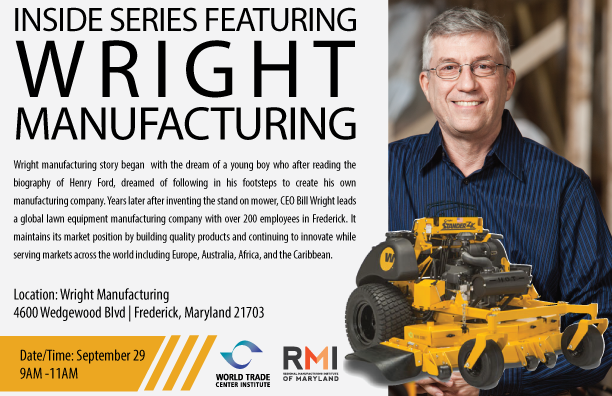 Wright manufacturing story began with the dream of a young boy who upon reading the biography of Henry Ford, dreamed of following in his footsteps to create his own manufacturing company. Years later after inventing the stand on mower, CEO Bill Wright heads a global manufacturer employing more than 200 people at its 120,000 sqft Frederick plant . It maintains its market position by building quality produces and continuing to innovate while serving markets across the world including Europe, Australia, Africa, and the Caribbean.

About Inside Series
At Inside Series, co-hosted by the Regional Manufacturing Institute, attendees get the inside view of a manufacturing firm as they share their international trials and triumphs. These events occur 2-3 times a year and include a VIP tour of the company's factory and are open to WTCI and RMI members only.
About Wright Manufacturing: A Maryland Manufacturing Leader
To enjoyably, safely, and profitably participate in the business of manufacturing and promotion of the most safe, useful, durable, and excellent quality lawn equipment in the world.
We endeavor to relentlessly and continuously improve and remove waste from our processes and systems according to lean concepts. We will treat, with the highest respect, each other, our internal and external customers, suppliers, and stakeholders while promoting each others' real success and progress in life.
REINVENTING THE LANDSCAPE OF MOWING
BILL WRIGHT DIDN'T START OUT WITH THE INTENTION TO REVOLUTIONIZE THE LANDSCAPING BUSINESS.
He started cutting lawns as a nine-year-old, and continued into his twenties while working as a car mechanic and to help pay for college. Bill bought used and new commercial mowers, souping them up to improve their performance. He eventually went full-time mowing under the name Lawn-Wright, his crews mowing 500+ lawns per week. In sharing his innovations with other landscapers, he enjoyed helping them work smarter, quicker, more efficiently and to a higher standard. Here are a few examples of mowing firsts from Wright:
CLIP SOFTWARE
As Bill's landscaping business grew, so did the demands of the office. So Bill taught himself database programming to create the first scheduling, routing and invoicing software for commercial cutters.
Within five years
, CLIP had over 1,000 users and Bill sold this business to focus on commercial mower design and manufacturing.
GRASS GOBBLER Frustrated with flimsy grass catchers that clogged up, Bill bought a welding machine and fabricated the first aerodynamic, continuously welded, tubing frame commercial grass catcher. Other landscapers wanted to buy them and dealers wanted to sell them. Wright Manufacturing was born.
VELKE SULKY Bill's mowing crew members were walking behind their mowers up to 20 miles a day, fatiguing and slowing down as the hours went by. Bill was inspired to develop a stand-on sulky for commercial walk-behind mowers with his mower mechanic, Jim Velke, which is now known throughout the industry as the Velke.
STANDER MOWER The Velke allowed experienced landscapers to mow all day at the top efficiency of their walk-behind mowers. But Bill and his engineering team took the efficiency and productivity of riding standing up vs. walking or sitting a giant step forward by inventing the first stand-on mower. This marked the beginning of an entire category of commercial mowers. Wright continually perfects a complete line of Standers to tackle any job.