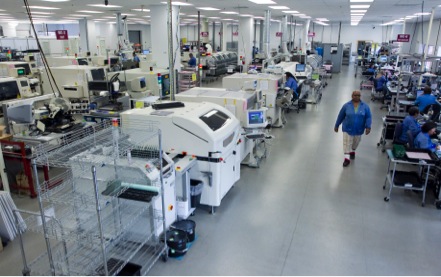 When Zentech's President, Matt Turpin, was asked how his Baltimore company can compete against Asian electronics manufacturers, he smiled quietly.
"At least once a month, I get asked about how we, as a local company, can compete in this space," said Turpin.
He smiled because there is a common misperception about today's American manufacturing competitiveness, with Asia in particular. Turpin recalled that more than twenty years ago, "when everything shifted to Asia," it was a different world. Back then, technology wasn't the same; it took a lot more components to build the product.
"What you used to take 1 1/2 to two hours now only takes us five minutes due to automation," he said.
Zentech is the largest electronics contract manufacturer in the state of Maryland. It designs and manufactures circuit-board-based products primarily for defense, medical and dental clients. The company services more than 45 clients whose product line ranges from aircraft radar systems in the defense arena; to blood diagnostics, sleep apnea diagnostics and dental applications in the medical fields; to LED lighting.
The Maryland company has been recognized twice in the past eight years by INC Magazine's "INC 500" as one of the fastest growing companies in America.
"Our niche in electronics manufacturing arena is underserved," Turpin said. "We provide engineering up front with product development and manufacturing afterwards, which has proven to be of great value to our clients. Receiving this recognition is great, but our job is never done."
Turpin said that Zentech's clients choose them over their Asian competitors because they not only compete on price, but also because clients really value the quality imbedded in their production process. As a matter of fact, once Zentech ships the products to its clients, many don't even open or inspect the products that are produced for them, but ship them directly to their clients.
"That is the ultimate compliment," Turpin said. "They know we are committed to excellence, and they trust us."
Taking a walk through the Zentech production and assembly area brought that point to light. With an immaculate factory floor and the latest automation technology, Zentech has made the investment to compete on equal footing with the Asian electronics contract manufacturers.
"If you look at our operations, we have a tremendous amount of robotics and automation, which makes us competitive," he said.
Zentech has embraced Six Sigma and Lean, and is always looking to squeeze waste out the operation.
"When we eliminate waste, it lowers our costs and helps us make our clients more competitive," said Turpin.
Quality is important for any manufacturer, but in the electronics field it is even more so the case. "If you make mistakes in electronics, you get punished badly since the margins are so thin," he said.
Zentech is committed to a robust quality system, which helps keep costs in check. The firm's latest effort has focused on how the company uses energy for its production.
"We joined the Regional Manufacturing Institute's (RMI) energy efficiency program to get a firm handle on how we use energy and to review opportunities for optimization," said Turpin. "The RMI energy efficiency program helps identify the opportunities and works with me, my engineers and my employees to see how best we can reduce our energy expenses. This is no small matter.  As a manufacturer, energy is a bigger expense that anything else."
Zentech is committed to reducing expenses and knows its needs to cut energy waste.
"If we don't tackle our largest expense, we put our customers into bad competitive position," said Turpin. "If we save money on energy, it shows up in their pricing. It's one of the main reasons we joined program."
The shrinkage of labor needed for production keeps labor content low, and when combined with similar material costs, Zentech finds that it can compete with anyone.
"With the maturity of supply chain, I can now buy electronic parts (for) the exact same price as the guy in Shenzhen or Malaysia," said Turpin.
For Zentech, materials are by far the largest expense for any electronics company. The company has essentially the same material costs as its foreign competitors, and since the labor piece is generally small, they find themselves very competitive.
In addition to the labor and materials costs, Zentech has another distinct advantage for its U.S. clients. Companies that buy from
U.S.- based Zentech don't have to pay for the additional costs of shipping, logistics, quality and service costs that they would have to pay by buying from Asian competitors.
"We see ourselves as extension of our client," said Turpin. "Our customers end up being our best marketing. Paying attention to detail pays off. Every one of our customers is a raving fan."