In their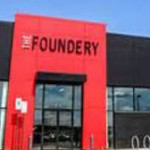 2016 global survey of 2000+ companies in 26 countries, PricewaterhouseCoopers reported that "Digitization drives quantum leaps in performance." Bobby Bono of PwC U.S will present the results of their report, Industry 4.0: Building the digital enterprise. This is an important presentation of facts on industry 4.0 (manufacturing 4.0). Join the conversation and begin to implement digital technologies to make your company ready for next generation advanced manufacturing.
Recent global surveys of manufacturers reveal that over half the leadership of the surveyed companies indicated that they are not prepared for Industry 4.0. Are you? RMI is offering a Manufacturing 4.0 discovery series for manufacturers who want to learn about M4.0 (Industry 4.0). Industry 4.0 is the term for the 4th Industrial Revolution. You will learn what you need to do to get your company on the road to compete in a digital world.
Port Covington's City Garage Foundery December 2, 2016  8-10:00 AM.
Tours of the Under Armour Lighthouse offered to attendees after each program.
RMI Member $50.00 Non Member $65.00

In Partnership with the Maryland MEP
This presentation will over in-depth knowledge and help you to learn what the movement toward 4.0 is about. There will be time for questions and answers and audience comment.