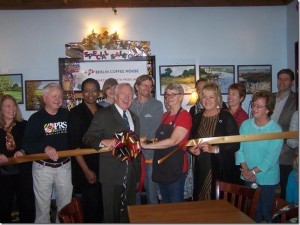 On November 14, Regional Manufacturing Institute of Maryland President Michael Galiazzo attended the grand-opening of a Maryland With Pride members products section at the Berlin Coffee House in the quaint town of Berlin.
While sipping fresh ground coffee and munching on a warm Otterbein cookie, Galiazzo told the Berlin Mayor Gee Williams, "Berlin was voted the coolest small town in America, and it is also the town with the biggest, warmest heart."
Berlin Mayor Gee Williams, who said, "Berlin is the first to launch a Maryland With Pride section in a Main Street Maryland shop, but I know this idea is going to be a success around the State."
The distinctive red, black, gold, and green signage supports "buy local" and was developed through a partnership between the Regional Manufacturing Institute of Maryland, the Department of Housing and Community Development's Main Street Maryland Program, and Maryland With Pride, which collaborates with businesses and organizations to showcase the strength and diversity of Maryland goods for both consumers and businesses.
As a result of the Make It to Main Street partnership, nearly 200 producers and merchants of Maryland goods  are showcased in the new Buy Maryland Directory, online at www.buymarylanddirectory.com.
(Photo L-R:) State Delegate Mary Beth Carozzo, Mike Galiazzo, Chris Plater, Berlin Mayor Gee Williams, Jason Hagy, Peggy Hagy, Lisa Hall, Laura Allen, Helen Wiley, and Steve Taylor.