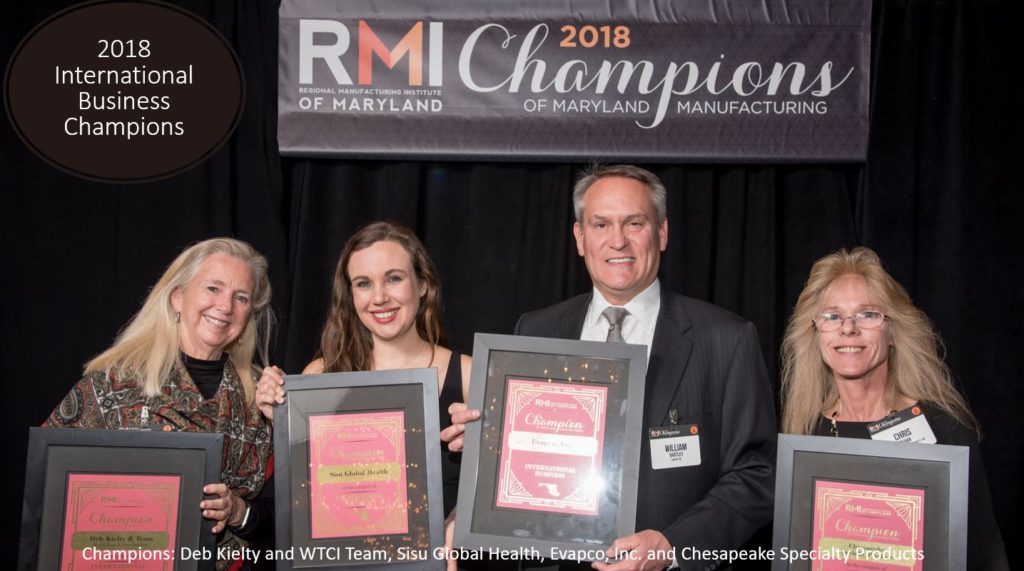 2018 Champions of Maryland Manufacturing
International Business – Champion Features
Champions in this category are organizations or individuals that have played an instrumental role in attracting overseas manufacturers to Maryland or exporting Maryland manufactured products overseas (more detailed Champions features can be found in the 2018 Champions Yearbook).
Baltimore County's Chesapeake Specialty Products Expanded sales in Europe and Asia and, their expansion into Turkey and East Asian markets contributed to increased international sales, which comprise 40 percent of total overall sales.
For 30 years Maryland's World Trade Center Institute (WTCI) has empowered manufacturers in the region with new ideas and valuable connections with programs like the Insider Series among others
Carroll County's Evapco, Inc. is a global designer and manufacturer of products for Commercial HVAC, Industrial Refrigeration, Power Generation and Industrial Process – manufacturing products in 23 locations in 10 countries around the world
Baltimore City's Sisu Global Health's Hemafuse, the company's flagship medical device product, was built in Baltimore from a 3D printed idea to a fully manufactured product which is now being sold in Africa and soon to be sold in other emerging market regions.